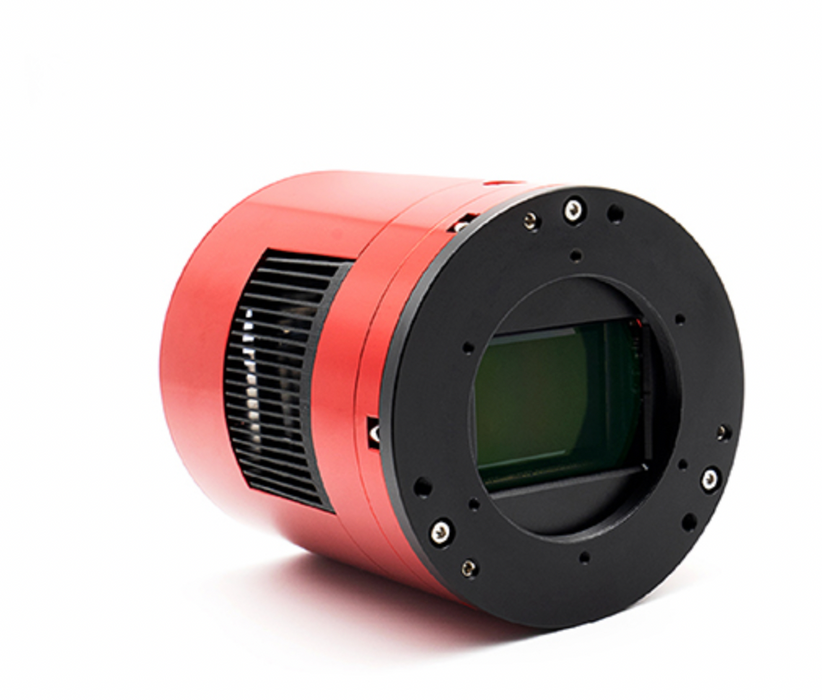 ZWO ASI 6200 MM Pro Mono Camera
Product Description
Please notice that all cameras with cooler need to be connected to an external 11-15v power supply to work. 
Even when the cooler is not being used the power supply must be used for the camera to be recognized.
Our new ASI6200MM Pro camera combines an optimal set of characteristics for you to be able to take amazing images. The huge sensor and full-frame format will let you capture detailed, large images. Some of the highlights include:
Sony IMX455 full-frame format sensor – giving a great field of view
True 16-bit ADC – giving a high dynamic range of up to 14 stops!
62MP sensor with a pixel size of 3.76um – huge sensor and relatively small pixel size to capture amazing detail across a large field-of-view
A large well depth of51.4ke- – no need to worry about saturating stars
Ultra-low readout noise of 1.2 e- – bringing out more details in your images with improved dynamic range
Zero amp-glow – even during long exposures, which means one thing less to worry about in post-processing
Amazing Craftsmanship, Lightweight body, Solid image quality
We have been working hard to reduce the weight of the camera while still improving the overall performance. After years of technical accumulation and repeated mass-reduction experiments by ZWO engineers, ZWO finally got the weight of the ASI6200 down to just 700 grams.
Full Frame format
The ASI6200MM Pro uses a full-frame format. The sensor length and width are 36mm * 24mm respectively, and the diagonal is 43.3mm. This is a 62MP camera with a small pixel size of 3.76um that can accommodate a large well depth of 51.4ke.
Native 16bit ADC
ASI6200MM Pro is our first batch of CMOS astronomy cameras with true 16-bit ADC. It is not a CCD-style 16-bit ADC – it really can achieve a dynamic range output of 14 stops. This significantly improves the image sharpness and contrast, and the contrast gradients are smoother and more natural-looking.
IMX455 backlit sensor
Sony's back-illuminated CMOS image sensor improves the sensitivity and noise reduction – the key factors to enhancing image quality. It does this by radically realigning the fundamental pixel structure from front-illumination to back-illumination, while still retaining the advantages of CMOS image sensors such as low power consumption and high-speed operation.
With a conventional front-illumination structure, the metal wiring and transistors on the surface of the silicon substrate that form the sensor's light-sensitive area (photo-diode), impede photon-gathering carried out by the on-chip lens. A back-illuminated structure minimizes the degradation of sensitivity to the optical angle response, while also increasing the amount of light that enters each pixel due to the lack of obstacles such as metal wiring and transistors. These components have been moved to the back-side of the silicon substrate.
Camera Performance
The ASI6200MM Pro has excellent performance with a dynamic range of up to 14 stops that will greatly reduce the issue of overexposed images, and make colour gradients look smoother and more natural-looking.
When the gain value is set to 100, the HCG high gain mode is turned on. We're not saying it's magic…but we'd like to think it is pretty close. With the HCG-mode turned on, the readout noise is greatly reduced, and the dynamic range is basically unchanged.
Zero Amp Glow
Traditional CMOS sensors produce a weak infrared light source during operation, quite often seen in the corner of uncalibrated images This is the tell-tale signs of 'amp glow'. As the ASI6200MM Pro uses zero amp glow circuitry, you won't have to worry about amp glow even when using high gain, long exposure imaging.
Anti-dew
ASI6200MM Pro comes with a polyimide heater that can avoid any dew problems.
The anti-dew heater sits on top of the protective window and will heat it to avoid any dew problems.
The heat anti-dew heater power is around 5W and can be turn off using software in order to save power.
QE value
The QE peak value of the ASI6200MM Pro is 91%.
Two-stage TEC cooling, ultra-low dark current
Thanks to the two stage TEC cooling, ASI6200MM Pro can lower the CMOS sensor temperature to more than 35 degrees Celsius below ambient temperature, which can greatly reduce dark current generation and sensor noise even during extended exposure times.
*The Delta T 35℃ is tested at 30℃ ambient temperature. It might get down when the cooling system is working for a long time. Also, as the ambient temperature falls, the Delta T would also decrease. 
The unique dark current suppression technology can further reduce dark current noise. At a cooling temperature of 0 °C, the dark current noise is only 0.003e/s/pixel. This means a 300s exposure will only cause a dark current noise of 0.9e-, which is completely negligible!