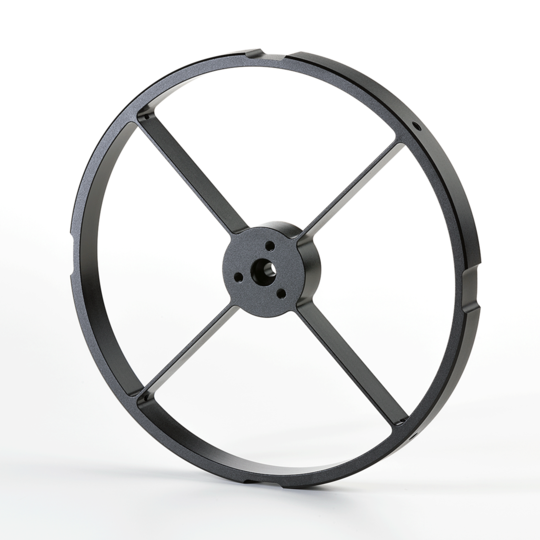 Secondary Spider for SkyWatcher 150, CNC machined
CNC machined secondary spider made of aluminum (EN AW-6061), black matte anodized, suitable for Skywatcher 150 P/PDS/Quattro
This secondary spider is manufactured on a modern CNC machining center. The high precision manufacturing ensures that the 1.8mm thick struts of the spider are perfectly aligned and the diffraction induced spikes on bright stars appear razor sharp. The lightweight, stable design, optimized by FEM simulation, also significantly improves the collimation stability of the 6" Skywatcher Newtonian.
Included
1 x Secondary Spider, suitable for Skywatcher 150 P/PDS/Quattro (tube inner diameter 180mm), black matt anodized
4 x mounting screws M5x6 (for mounting in the tube)
3 x stainless steel studs screws M4x25 (with tip) for adjustmet
3 x stud screws M4x25 (with cone head) for adjustmet
1 x stainless steel fixing screw M5x25 for mounting the secondary mirror holder
1 x stainless steel washer 35x15x1,5 (for optional optimization of the secondary holder)
Please note! The spider is not compatible with telescopes from TS-Optics!!!