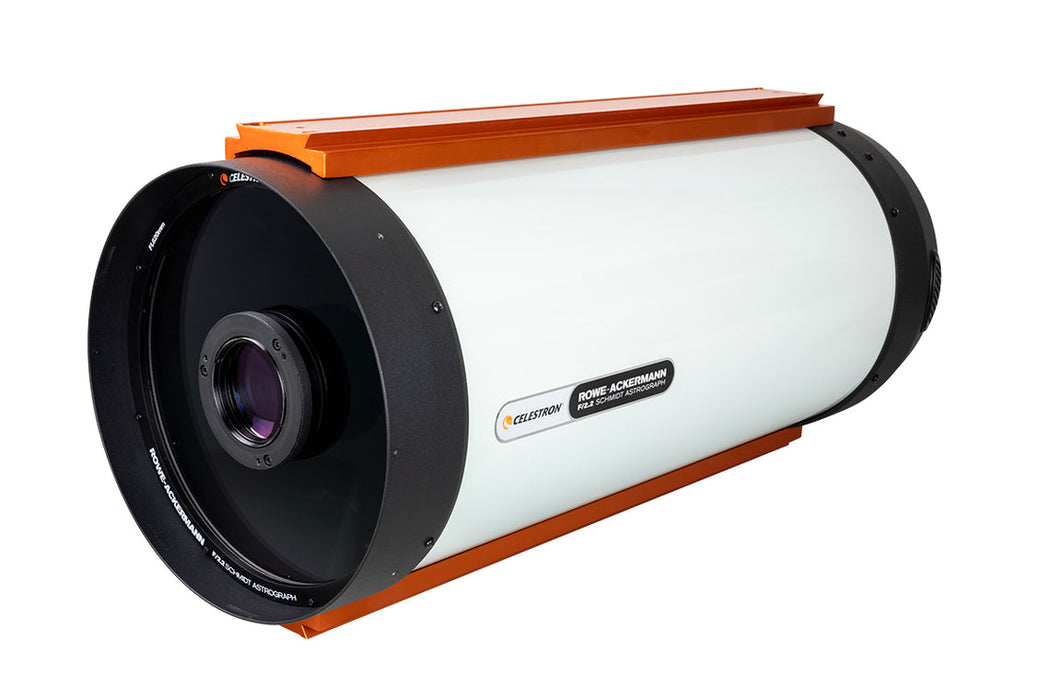 Celestron 11" Rowe-Ackermann Schmidt Astrograph (RASA11) V2
Capturing impressive deep-sky astroimages is easier than ever with Celestron's new Rowe-Ackermann Schmidt Astrograph, the perfect companion to today's top DSLR or astronomical CCD cameras. This fast, wide-field f/2.2 system offers two huge advantages over traditional f/10 astroimaging: better apparent tracking and shorter exposures. That means you'll create better-looking astroimages in a fraction of the time, even without the use of an autoguider.
The Rowe-Ackermann Schmidt Astrograph builds on the legacy of Celestron's Schmidt Camera, which allowed astrophotographers to produce images on film in the 1970s.
Today, with CCD sensor sizes as large as film—or larger—the Schmidt Astrograph offers a 43.3 mm optimized image circle to capture pinpoint stars on the largest imaging chips. (Note: We previously published 70 mm which is actually the aperture of the last lens in the telescope. The optical design has not changed). Combine this large image circle with a focal length of just 620 mm and you have an instrument suitable for wide-field imaging, creating huge mosaics of the night sky, surveying, and even comet hunting.
Optical Performance
The Rowe-Ackermann Schmidt Astrograph features newly designed optics with 4-element rare-earth glass for images free of false color and aberrations like coma and field curvature. The optical quality and spot size across the entire image circle is unprecedented for an astrograph in this price range—or even that of a much more expensive instrument. The design also provides minimal vignetting.
Engineered as a complete astroimaging system, every component of the Rowe-Ackermann Schmidt Astrograph is optimized for peak performance with DSLR and astronomical CCD cameras. Down to the thickness of the glass used in the included fully-multicoated optical window or an optional imaging filter, every component of the system has been taken into careful consideration to work together seamlessly.