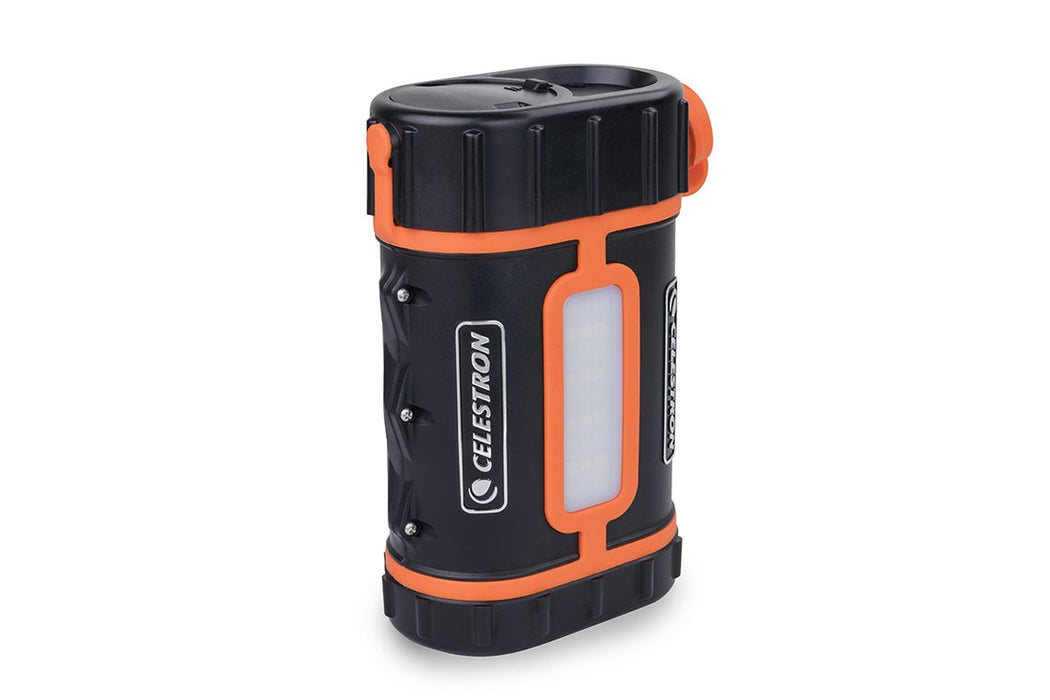 Extra-large capacity portable power pack featuring Celestron's LiFePO4 battery technology
Powers your telescope for up to 17 hours
USB device charging supports QuickCharge 2/3 and Adaptive Fast Charge to give you the fastest device charging possible
Features 2 USB ports for charging other devices, plus a 12V car battery adapter port
LED light panel provides bright white or red LED illumination for up to 25 hours
Perfect for astronomy, camping, emergency kits, anywhere you need portable power
Meets current FAA regulations for carry-on baggage
Battery shuts off automatically when insufficient current flow is detected to prevent you from inadvertently draining your battery
The PowerTank Lithium Pro is for the true power user!  This higher capacity unit is the latest version of our bestselling PowerTank Lithium. PowerTank Lithium Pro offers twice the battery capacity of the original, making it ideal for more demanding applications.
PowerTank Lithium Pro features the right ports and connections to accommodate a variety of devices. You'll find a 12V DC 5A telescope power port (Celestron cable included), a 12V DC 10A car battery adapter port, and two 5V DC USB ports - one 2.1 A and one that supports rapid charging.
The power pack's extremely portable form factor means it can go anywhere from a remote dark sky location for astroimaging to a weekend of camping. When it's powering your telescope, use the included 2" straps to secure the unit to your tripod leg where it is out of the way. 
One side of the unit features a strip of LED lighting in both bright white and red. This turns the unit into a convenient safety light during star parties or a work lamp to clean up your observing area when the night is done. You can even use it as a bright emergency light during a power failure and illuminate an entire room of your home.
PowerTank Lithium Pro can also travel with you on your next vacation. At 158.72 Wh, it meets current FAA regulations (160Wh) from transportation in your carry-on baggage.  Please check in advance with your airline to verify they do not have stricter policies.
 Specifications
| | |
| --- | --- |
| Battery Capacity: | 158.72 Wh |
| Charging Input: | 16VDC @ 2000mA |
| Charge Time (from flat): | 6 hours |
| Telescope Power Port: | 12VDC @ 5000mA, Tip positive |
| Car Battery Adapter Port: | 12VDC @ 10A, Tip positive |
| USB Charging Port 1 Output: | 5VDC @ 2100mA |
| USB Charging Port 2 Output: | 5VDC Quick Charge |
| Auto Shutoff Threshold Current: | (Car Battery Port) - Less than 420mA for a long period of time |
| Operating Temperature: | -4°F - 140°F (-20°C - 60°C) |
| Light Panel: | Red or White with two brightness settings for each color |
| Weather Proof/Dust Proof: | IP-65 rating |
| Telescope Power Cord: | 6.5 ft (2 m) with connector for Celestron telescopes |
| Strap: | 2" wide hook & loop strap for attachment to tripod leg |
| Product Dimensions: | 8.75" x 6" x 4" |
| Product Weight: | 4.5 lbs |