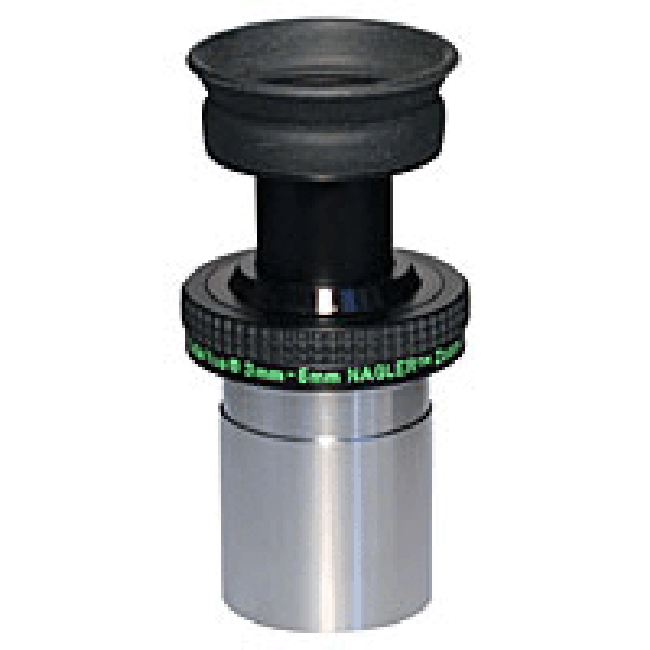 This high performance, high-contrast, high-power eyepiece is ready to take its place among the best planetary eyepieces available... but with a "Nagler" twist.  Al incorporated his proven "Nagler" concept into a zoom, while optimizing for the performance factors critical to planetary observers: contrast, resolution, and comfortable eye-relief.  The Nagler Zoom is "tack-sharp" across its constant 50° apparent field, and throughout its zoom range, parfocal with other TeleVue 1.25" eyepieces and has a constant 10mm eye-relief.  Weight is only 0.3 lbs.
And, as seemingly unbelievable as it all sounds, the design includes just 5 elements in 3 groups.  In case you're not counting, that's the same number of air-to-glass surfaces found in a Plössl or Ortho plus a Barlow!
Why did TeleVue design this eyepiece?  By dialing in the best "balance" between magnification, exit-pupil size, and atmospheric turbulence, the critical planetary observer can find the best possible image for the observing conditions.  The new 3mm-6mm Nagler Zoom features Click-Stops at 3, 4, 5, and 6mm, full multi-coating, blackened lens edges, fold-down eyeguard, rubber grip-ring, safety undercut, anti-reflection threads and filter threads.  May the "degrading zoom" mythology rest in peace!