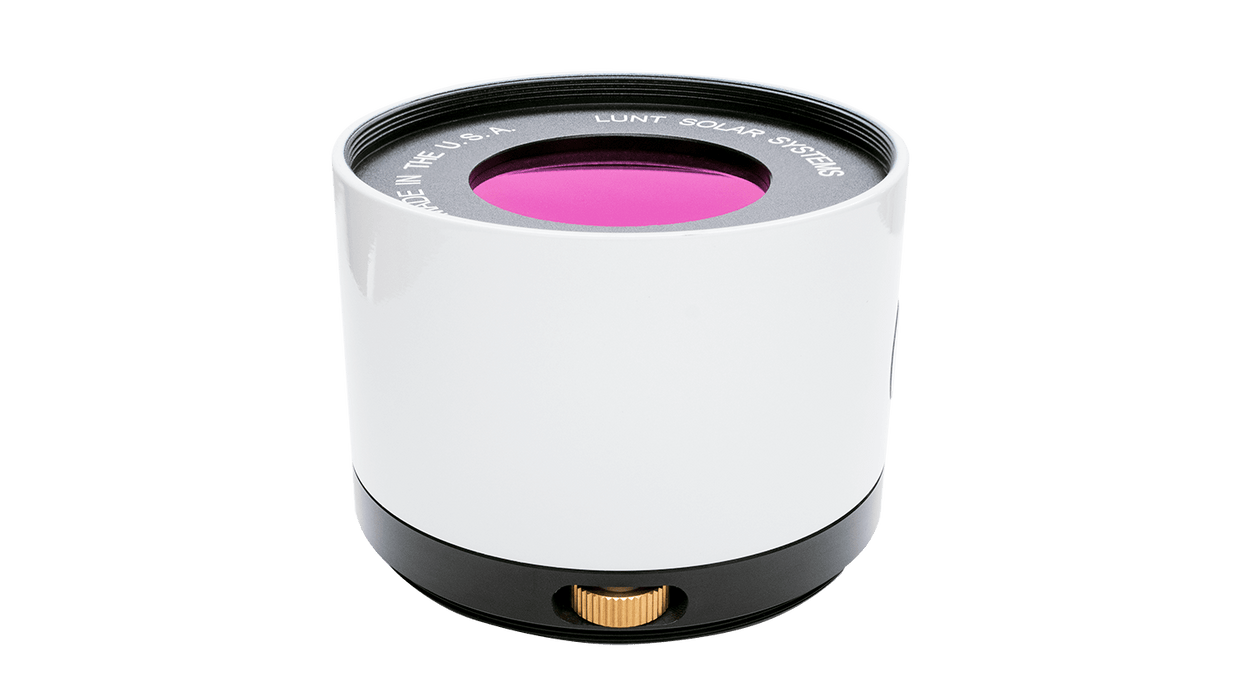 Lunt LS50FHa Front Mount 50mm Double Stack Solar Filter (Fits 60mm Telescopes)
LS50FHa solar filter front-mounted non-obstructed hydrogen-alpha filter for use on Lunt ED Telescopes or Double Stacking an existing Lunt Solar System!

Accommodates LS60THA and LS60MT Telescopes

Connect the Lunt LS50FHa to an appropriately sized refractor of your choosing, or use it to double-stack on an existing Lunt 60mm Telescopes for a ~<0.5A band pass!
Choose the appropriate LS50FHa and blocking filter to match your Visual and/or Imaging requirements.
The Lunt LS50FHa Solar Filter is a 50 mm aperture (no central obstruction) integrally tuned etalon for use on Lunt ED Refractors.
Lunt Solar will be introducing a larger selection of ED Telescopes that will meet your Solar needs for Daytime observing and meet the additional requirements of Nighttime observing.  In this way you can use one scope for day and night.
Lunt Solar also offer a full line of dedicated Solar Telescopes.
You MUST use a matching Lunt Blocking Filter with a Lunt Solar front mounted Filter (this is a safety requirement). For this reason choose the blocking filter that best suits your requirements for the system. It's important to realize that a larger blocking filter is recommended for imaging due to the need for in-focus of the camera.
B600 – Visual Use
B1200 – Imaging and Visual Use
B1200 – Visual Use
B1800 – Imaging and Visual Use
Removing the LS50FHa Solar Filter for night use
The Lunt ED refractors are designed to retrofitted with the LS50FHa Hydrogen-alpha Filter.  In this way you can use the ED telescopes during the day. Notably, they are easily removable so that the Lunt ED scope can continue to be used for night observing.
Because the LS50FHa Solar Filter has an estimated bandpass of <0.70 Angstrom it is capable of providing high contrast views of both surface and edge detail. Significantly, adding an additional etalon system (double-stacking) will reduce the bandpass to ~<0.50. Allowing for higher resolution viewing and/or imaging. In addition, the part number LS50FHa is offered for this purpose or for those who already have a Lunt blocking filter.
LS50FHa Specifications: (single filter)
Optical Aperture: 50 mm
Etalon: Internal <0.70 Angstrom
Tuning: Tilt
Focal Length: ED80 (f/7) ED102 (f/7)
Filter Storage: Aluminum finished hard case with fitted foam
Filter Weight: 2 lb (~1kg)