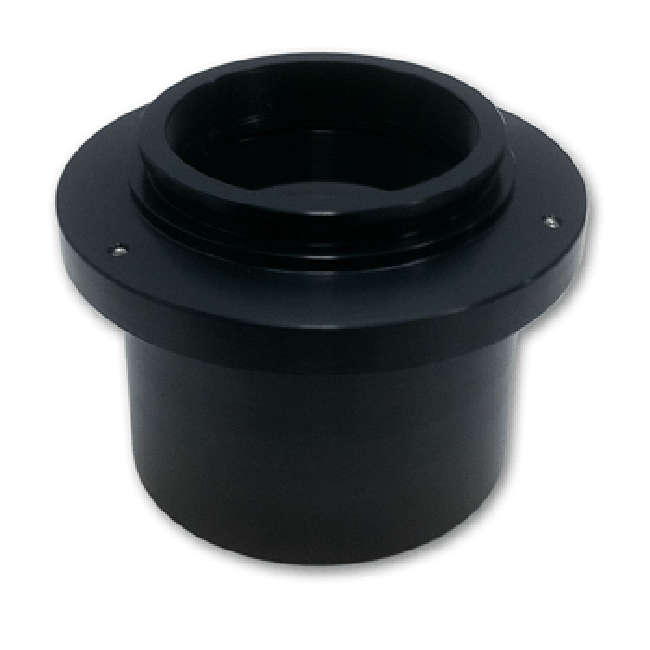 Second-generation design optimized for new-style Hyperion 12.5" and 16" models. Available now.
The optical design of the Hyperion focal reducer has been revised to take advantage of the longer mechanical backfocus available on the truss-tube versions of the Hyperion telescopes. The backfocus of the reducer now allows use of Apogee high-cooling camera bodies with filter wheel and MonsterMOAG guider. Also, the focal reduction factor has been improved, allowing a wider field of view and faster imaging.
This focal reducer has been custom-designed to match the excellent optical performance of the Hyperion astrograph. It retains a large, flat field, free from aberrations. In fact, performance is diffraction-limited over a full 52mm field of view.
With 4 inches of backfocus, the Hyperion focal reducer works with a variety of camera setups, including:
Apogee Alta Series*
Apogee Alta Series* with FW50 filter wheel
Apogee Alta Series* with FW50 and MonsterMOAG guider
Apogee Aspen Series
FLI Proline
FLI Proline with FLI CFW
QSI 500 Series
SBIG ST Series
SBIG STL Series
SBIG STL Series with FW8 filter wheel
SBIG STL Series with FW8 and MonsterMOAG guider
SBIG STX Series
Starlight Xpress SXVR
And many more...
* Including deep-cooling models
The focal reducer converts the 12.5" f/8 Hyperion to an f/5.7 focal ratio, and the 16" f/7.3 Hyperion to an f/5.2 focal ratio, making each nearly 2 times faster. The reducer is designed to cover a 52mm image circle, corresponding to the diagonal size of the popular KAF-16803 large-format CCD sensor. Large (76mm) lens elements keep the vignetting to less than 15% over the 52mm field.
The Hyperion focal reducer threads onto the end of the telescope's standard Feathertouch 3.5" focuser, in place of the normal end cap. A 3" flange forms the standard camera attachment. The Apogee Alta series with Apogee FW50 and Astrodon MonsterMOAG bolts directly to the flange. Other cameras require alternate adapters or spacers to keep the backfocus correct and keep the performance nominal. Adapters are available for a variety of cameras.
Hyperion 12.5" Specifications with Focal Reducer
Focal Ratio: f/5.7
Focal Length: 1825mm
Optimal Field of View: 52mm (1.63 degrees)
Average RMS Spot Diameter (52mm FOV): 5.6 microns
Hyperion 16" Specifications with Focal Reducer
Focal Ratio: f/5.25
Focal Length: 2132mm
Optimal Field of View: 52mm (1.4 degrees)
Average RMS Spot Diameter (52mm FOV): 6.7 microns
General Specifications
Focal reduction factor: 0.72x
Total Backfocus (from lens to focal plane) = 112.5mm
Fully AR coated, less than 0.5% reflectance over 400-700nm
Weight (with standard 3" flange): 2.1 lbs (955g)
Overall length (with standard flange): 3.35" (85mm)
Main body diameter: 3.47" (88mm)
Maximum diameter (focuser mount): 4.4" (112mm)
Made in USA
Performance Diagrams
RMS Spot Size vs. Field
Vignetting Plot
First Light Image
LRGB = 120:30:30:30 minutes with Apogee U16M camera