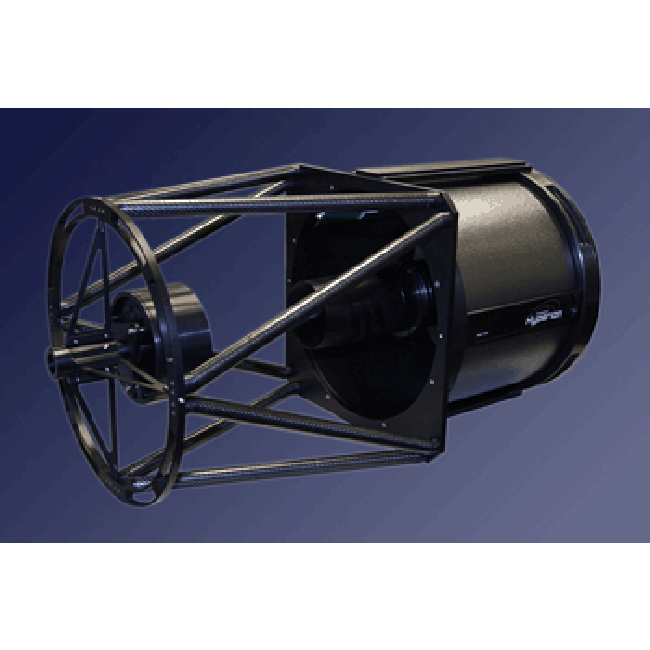 Hyperion 16" f/7.3 Astrograph
Starizona has developed an astrographic telescope that will deliver the largest, highest quality field of view on the market. With a 70mm diffraction-limited image circle, the Hyperion telescope produces ideal star images over a field large enough to accommodate even the biggest CCD sensors. The Hyperion was engineered to deliver exquisite optical performance and high-quality mechanical design at a cost much less than competing models. The unique optical design allows for very high performance at a fraction of the cost. The Hyperion is the ultimate high-resolution imaging system.
Standard features include a high-precision instrument rotator, integrated telescope control panel, and wireless computer control. The instrument rotator is integrated into the back of the telescope and uses a custom 6-inch brass worm gear and unique stainless-steel bearing system, allowing for a precise and robust design. The telescope control panel, built into the back plate of the telescope, features a digital readout display and control the instrument rotator, cooling fans, dew heaters, and two MicroTouch autofocusers (one for the Hyperion and one for an optional piggyback instrument). All telescope electronic functions are controlled from your computer via a tiny wireless USB box, eliminating the tangle of cables normally associated with running imaging accessories. All features are ASCOM compatible, allowing for automation with popular imaging control software.
Features
Flat-field, Harmer-Wynne optical design
70mm (1.4°) diffraction-limited image circle
No chromatic aberration over 350nm-1100nm range
Low thermal expansion carbon-fiber truss poles
18-point flotation mirror cell
Starlight Instruments 3.5" Feathertouch Focuser
MicroTouch temperature-compensating autofocuser
High-precision instrument rotator
Integrated telescope control panel with automatic and manual control of telescope electronics
Digital readout display
Wireless computer interface
ASCOM compliant electronic features
CNC machined 6061 aluminum construction
Heavy-duty Losmandy-style dovetails (top and bottom)
Two rear cell cooling fans for rapid thermal stabilization
Made in USA
Specifications
Aperture: 16" (406mm)
Focal Ratio: f/7.3
Focal Length: 2960mm
Secondary Mirror Diameter: 6.9"
Overall Length: 41 inches (48 inches with focuser)
Overall Height (between dovetails): 20.4 inches
Overall Width: 19.7 inches
Total Weight: 98 lbs.
Visit HyperionTelescopes.com for more information
View the instruction manual for the Hyperion 16
Download drivers for the Hyperion, including 32-bit drivers for Windows XP and Vista, and 64-bit drivers for Vista and Windows 7 (0.8MB ZIP)
Download new drivers and software for Windows 8 and 10(1.5MB ZIP)
Ordering Info
Deposit: 50% deposit required at time of order. Remainder of payment due when the telescope is ready to ship. There is a 3% fee for cancelled orders. Please call us with any questions.
Shipping: Actual shipping cost is determined at time of shipment. The Hyperion 16" ships in a custom-fit wooden crate which is 51 x 26.5 x 32 inches. The total shipping weight is approximately 220 pounds.