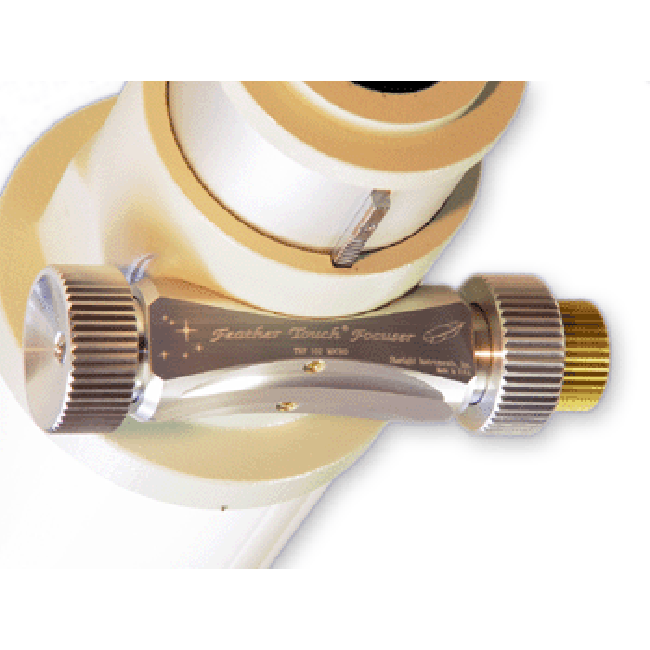 Feathertouch Micro Pinion Assembly for Takahashi 2.5" Focusers
This Micro Pinion Assembly can be used on the Takahshi Sky 90 and FCL-90 telescopes. This installation improves the performance of the telescope's fine optics by allowing precision focusing that was pioneered by Starlight Instruments, Inc. Starlight Instruments have been making and perfecting the fine focus mechanisms for their focusers for 15 years and have gained a reputation for precision and quality. This new development now allows the fine Takahashi refractors to be upgraded with our newly designed Feather Touch Micro Pinion Assemblies. Don't settle for anything but a Feather Touch!
Technical Specifications:
The unit utilizes an aesthetically pleasing machined Pinion Assembly that can be retrofitted to the above mentioned telescopes to bring together form and function. Just imagine the rigidity of having an entire pinion assembly mated to these beautiful telescopes at a very affordable price. These units use the existing Takahashi pinion with the Starlight Instruments, Inc. 10:1 fine focus mechanism. This mechanism has been improved and perfected to allow greater precision, reliability and toughness. All materials are the best available and no short cuts are ever taken. The installation is easy for most and will allow the user to now achieve the same level of performance with these telescopes as many of our customers have been enjoying with Feathertouch focusers on many other telescopes. All parts are anodized aluminum for corrosion protection, beautifully designed and laser engraved. All high load parts are made from hardened stainless steel for long life, reliability and toughness.