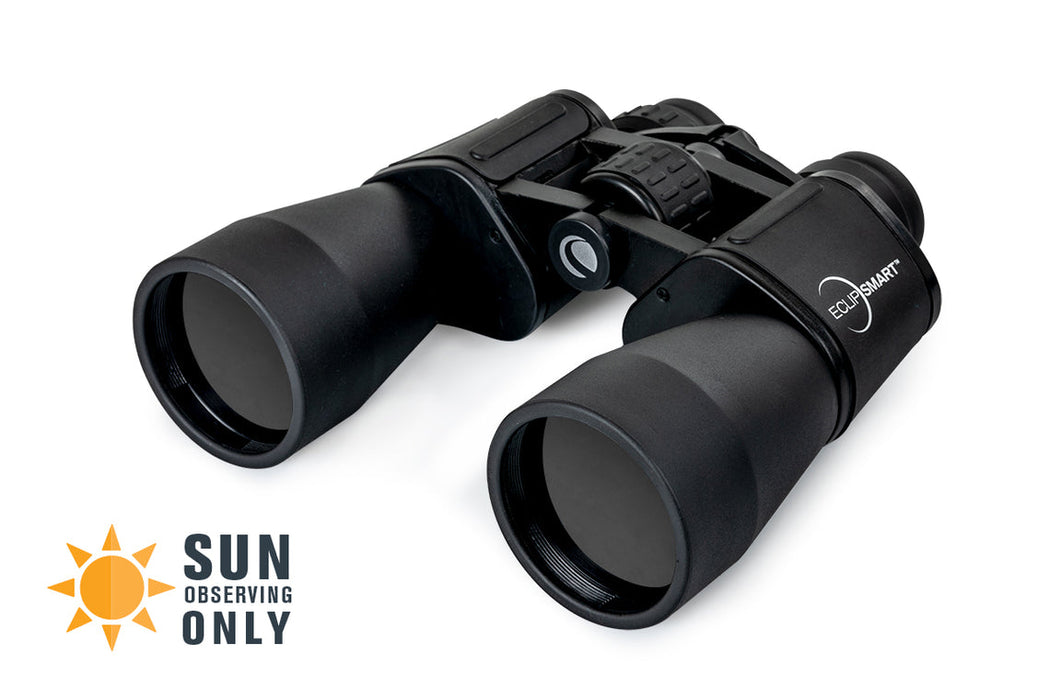 EclipSmart 20X50mm Porro Solar Binoculars
POWERFUL 20x SOLAR BINOCULAR: This dedicated solar binocular offers 20x magnification and large 50mm objective lenses with built-in filters for guaranteed safe, detailed views of the Sun.
SOLAR SAFE FILTER TECHNOLOGY: Filter conforms to the ISO 12312-2:2015(E) international safety standard for filters directly viewing of the Sun. The ideal tool for viewing eclipses, sunspots, or the Sun any day!
PERMANENTLY ATTACHED FILTERS: Use your solar binoculars with peace of mind, knowing the filter will not be knocked off or accidentally removed.
MULTI-COATED OPTICS: See details like sunspots clearly with added contrast from Celestron's optical coatings.
GENEROUS FIELD OF VIEW: Find the Sun easily and view the entire solar disk at once.
DURABLE AND RUGGED: Rubber-armored aluminum body stands up to rough handling and harsh conditions.
The Celestron EclipSmart 20x50mm Solar Porro Binocular is one of the most convenient ways to enjoy safe, detailed, magnified views of the Sun anywhere. This large aperture solar binocular is the perfect grab-and-go option for eclipse chasing, studying sunspots, or simply observing our closest star any day. With powerful 20x magnification, you'll see the Sun up close like you would with a small telescope and a solar filter. But with a solar binocular, you can find and watch the Sun in a fraction of the setup time.
Best of all, Celestron EclipSmart binoculars feature Solar Safe filter technology, ensuring ultimate protection from harmful solar radiation. Unlike detachable filters, which can be knocked off unexpectedly, EclipSmart Solar Binoculars feature built-in filters embedded in the objective lenses. Enjoy the Sun with confidence, knowing it's impossible for the filters to become dislodged while you or your loved ones are observing.
Solar Safe Filter Technology
EclipSmart solar products feature Solar Safe filter technology—the ultimate protection from harmful solar radiation—including IR and UV light—plus 99.999% of visible light. Celestron Solar Safe filter technology is SAFE for direct observation of the Sun and has been independently tested to conform to and meet the transmission requirements of ISO 12312-2:2015(E), Filters for Direct Observation of the Sun.

Important safety note: inspect your binocular's objective lens filters before every use. Do not use and discard if damaged, scratched, or separated from the frame in any way.
Crystal Clear View
With its multi-coated optics, the Celestron EclipSmart 20x50mm binoculars deliver high-contrast images of the Sun. These are white-light solar binoculars that provide a clear black-and-white image of the Sun. Although it offers high magnification, the 20x50 model still boasts a wide enough field of view that you can see the complete solar disk without moving the binocular.
The Body
A durable, rubber-armored aluminum housing protects your EclipSmart binocular from damage without weighing you down. The binoculars are comfortable to use for eyeglass wearers and non-eyeglass wearers alike, thanks to their durable folding eyecups. Fold them down for safe and effective use with your eyeglasses or keep them unfolded if you don't wear glasses.
Accessories Included 
Carry your EclipSmart binocular with the comfortable included neck strap. The binocular also includes a protective padded nylon case for storage and transport, and protective eyepiece and objective lens covers.

Upcoming Eclipses
2023 - On October 14, 2023, the famed "Ring of Fire" will encircle a darkened Moon during a spectacular annular eclipse.  This phenomenon occurs when the Moon is too far from Earth to cover the Sun completely. The Sun's corona is not visible during an annular eclipse. Click here for more info.
2024 - On April 8, 2024, the Moon will completely cover the Sun during an awe-inspiring Total Solar Eclipse. Observers within the path of totality will witness the sun's dazzling corona, the "diamond ring" effect, and day turn to night.