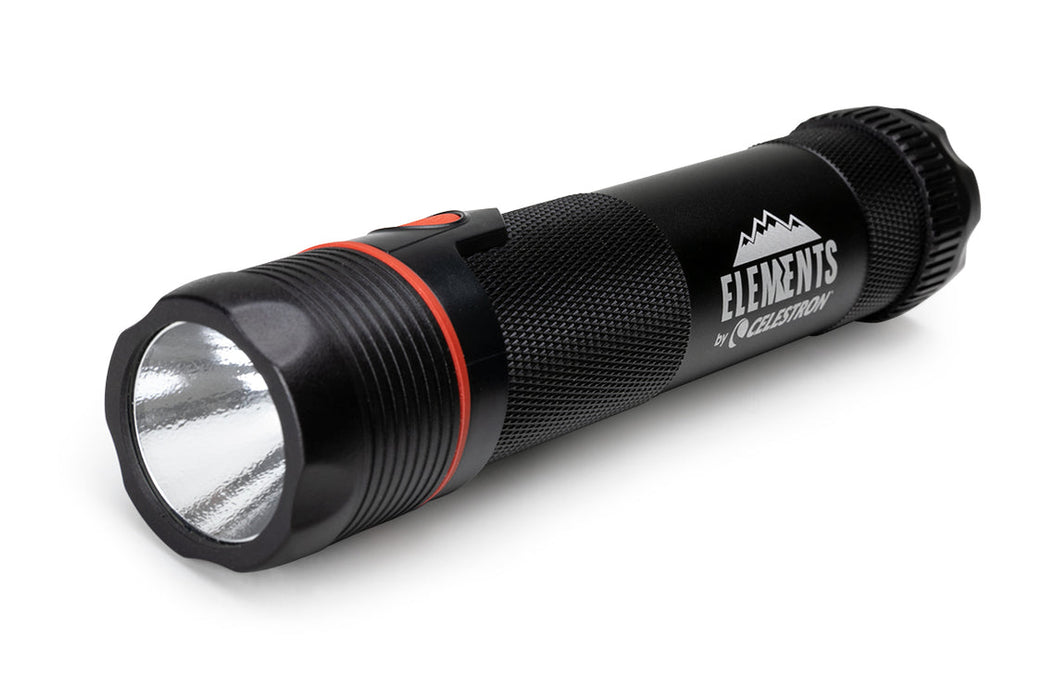 Celestron Elements ThermoTorch 3 Astro Red
Your 3-in-1 astronomy essential: a red flashlight, hand warmer and power bank
Rechargeable 3350 mAh lithium battery – no external batteries needed
Durable, ergonomic CNC machined aluminum body
Bright flashlight with 3 modes – 3W, 90 lumen maximum red light brightness
Hand warming feature provides up to 4 hours of heat
USB 5V 2.1A charge port delivers a full recharge to most smartphones
Celestron Elements ThermoTorch 3 Astro Red is your must-have outdoor tool. This 3-in-1 device features a 3-mode red flashlight, a hand warmer, and a portable power bank for recharging your personal electronics on the go. Whether you use it to light the way at an astronomy star party, a night walk, or wildlife research, ThermoTorch 3 Astro Red's rugged, IPX4-rated design will withstand your everyday activities.
The ThermoTorch 3 Astro Red flashlight is perfect for nighttime use. The red LED light provides useful illumination while preserving your night vision we've even changed the power button and battery charge indicator lights from the usual Elements blue to red! The flashlight features 3 modes of red-light illumination, and will light the way for a total of 15 hours of light on a single charge. Unlike traditional flashlights, ThermoTorch 3 Astro Red features an internal lithium battery, so you can recharge it hundreds of times without spending money on batteries.
If your hands get cold, take advantage of the hand warmer function, which provides up to 4 hours of continuous heat. The flashlight and hand warmer can be used simultaneously if desired.
When your mobile devices need an extra boost of power, just plug them into the unit's 5V-2.1A charging port. ThermoTorch 3 Astro Red works with any 5V DC device, including smartphones, tablets, action cameras, MP3 players, and more. 
If you own multiple Celestron Elements C-Link enabled devices, you can connect them to provide even more power using the C-Link feature. Connecting other Celestron C-Link enabled power banks to the ThermoTorch 3 Astro Red you can extend the hand warmer's total operation time to 16 hours.
Anytime you need to keep your eyes dark adapted, the ThermoTorch 3 Astro Red will keep you going with light, heat, and power.  It is a true workhorse of an accessory and an indispensable addition to your adventure pack or telescope kit.