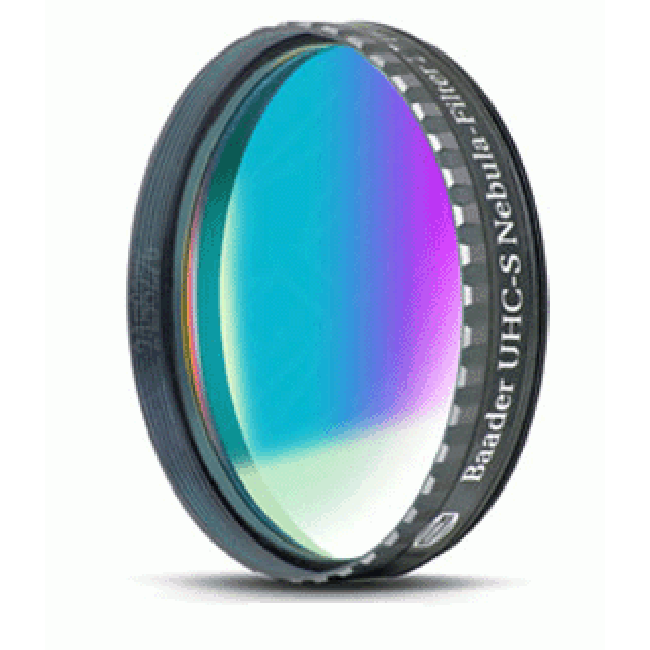 Baader UHC-S Filter - 1.25"
Great for HyperStar imaging!
The Baader Planetarium UHC-S Nebula filter excels at delivering a high-contrast and natural view of emission nebula - without excessive dimming and loss of background star fields. The perfect filter for viewing emission nebula from light polluted skies, or for boosting the contrast of nebula from dark sky sites. The advanced technology coatings enable the filter to achieve an outstanding transmission of over 97% across the entire passband, with total blockage of prominent light pollution lines. This translates to maximum image brightness and contrast. Owners of smaller, 4"-10" telescopes will especially appreciate the high efficiency, and larger scope users will love the rich star fields and detailed subtle nebular shadings that are left intact.
The Baader UHC-S manages to improve on the contrast of the typical broadband or so-called "Deep Sky" filters. Sky background is darker, and contrast of emission nebulae are noticeably improved. Most other "UHC" filters tend to excessively darken the sky and star fields, leaving the nebulae looking artificial and flat, set against an empty background. The high transmission, sharp cutoffs, and more moderate 60nm passband of the Baader UHC-S filter retains a more natural view, yet significantly boosts overall contrast. Imagers will appreciate the broader passband and inclusion of an extremely efficient H-Alpha passband (>99% @656nm), as well as the extreme optical quality.
At the heart of the Baader UHC-S filters are their special fineoptical substrate polishing process and advanced coating design. The result is a filter that imparts no image degradation, unlike other filters. To prevent deterioration from cleaning or exposure to moisture, some other filters even resort to sandwiching their delicate coatings between two layers of filter glass, resulting in potential blurred or double images. The combination of hardened coatings and fineoptical substrate of the Baader UHC-S avoids this image degradation. A common misperception is that deep sky viewing is limited to low powers, and image resolution is not as important as in planetary observation. In reality, high magnifications are very common and useful in studying fine details, particularly for the brighter diffuse and planetary nebulae. Baader UHC-S filters can take high magnifications, and stars retain their pinpoint sharpness, even if the filter is used far ahead of the image plane (ie, for imaging use, or ahead of a star diagonal or binoviewer). Baader filters fulfill the requirements of an ideal filter - to perform their filtration at highest efficiency without any other detectable effect on the image.
Above: Comparison images of M27 taken from the light-polluted Starizona parking lot! Left image shows M27 without any filters, while the right image shows M27 through the Baader UHC-S filter. Notice how much darker the background is and how much more neutral the color balance is. Quantitatively, the background values (sky glow amount) are half as much in the filtered image! Both exposures are single, unstacked, 20-second exposures with a HyperStar C11 and Starlight Xpress SXVR-H9C camera.