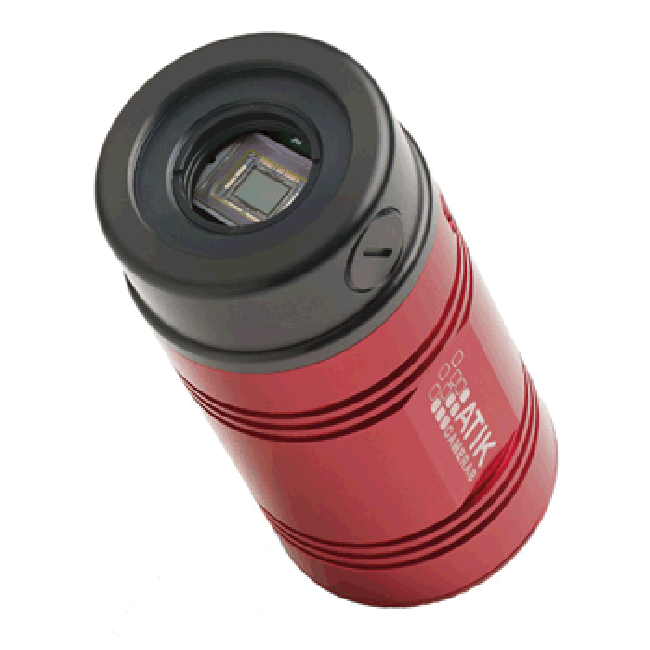 2.8 million 4.54µm square pixels for high-resolution imaging
Low-noise electronics for the best sensitivity
High Quantum Efficiency
Regulated cooling to -30°C max below ambient
Excellent software support
The Atik 428EX is the first camera available to astronomers that uses Sony's state of the art ICX674 2.8MP sensor. Featuring the latest generation EXview technology, this camera has an outstanding Quantum Efficiency, very low noise and excellent thermal management. This model is an ideal match to telescopes commonly used by amateurs. It's excellent sensitivity makes it one of the best cameras for deep-sky astrophotography, surpassing its forerunner, the acclaimed ICX285.
The Atik-4 Series cameras are a development of the 3-Series cameras, featuring better cooling and narrower body. They benefit from setpoint cooling to make taking matching dark frames a snap, and simple 12V power requirement to facilitate field operation. The impressive sensitivity, great cooling and narrow profile, make the Atik Series 4 outstanding CCD cameras to use on modern telescopes, including Hyperstar systems.
The Atik 428EX is a perfect match for narrowband imaging. It's excellent Quantum Efficiency in OIII, Ha and SII, make it one of the best cameras available for this demanding technique. Advanced color mapping compositions can be done with lower integration time, getting more out of your imaging session. More data, better data.
Featuring the narrowest body in its class, the Atik 428EX is one of the lightest cameras as well. But don't think there was a compromise regarding cooling performance or stability. The cooler has been engineered for low power use, making your field sessions last longer. The desiccant port is now easily accessible from the exterior.
Quality Software
The Atik 428EX comes with Atik's renowned Capture application which provides a simple and intuitive yet powerful way to acquire images. Tools include a focus assistance readout, image sequencer, guide camera control and integration with Atik filter wheels. Capture aims to take the stress out of imaging, making your time at the telescope more enjoyable. If you require compatibility with other software there are plugins for MaxIm DL, Astroart and CCDSoft, as well as a full ASCOM driver.
Also included is Dawn, Atik's new image-processing software. Like our cameras, it was designed from the ground up to be powerful yet easy to use. It allows a sequence of image-processing steps to be represented in the form of a pictorial workflow which can be created with a few mouse clicks and can then be executed very easily for repeatable and speedy results.
Specifications
Sensor Type: Sony ICX674
Horizontal Resolution: 1932 pixels
Vertical Resolution: 1452 pixels
Pixel Size: 4.54x4.54 µm
ADC: 16 bit
Readout Noise: Typical 4e-
Interface: Mini-USB 2.0
Power: 12V DC, 1A
Cooler: Regulated, Delta-T = -30°C max
Weight: 400g
Dimensions: 60x121mm