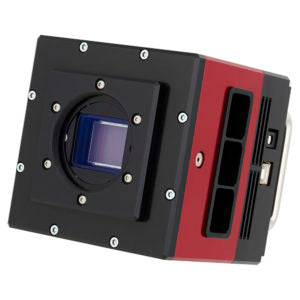 16.2 Megapixel camera for Large Format, cooled CCD Astrophotography
The Atik 16200 is the highest resolution astrophotography camera in the Atik Cameras range. It has the signature Atik blend of form and function, boasting an APS-H size sensor with a 35mm diagonal in a whole new case design.
The sensor has a generous 6µm pixel size which makes it suitable for a huge range of telescopes. The large format size of the camera makes it ideal for astrophotographers looking to capture widefield views of the night sky. It's also an excellent match for longer focal lengths, capturing intricate details on even the smallest and faintest of objects. Whatever your astrophotography style, the large size of the images give you the freedom and flexibility to zoom in and take a closer look at regions of interest with the level of detail you'd expect from your main target.
The large size of the sensor is a match for 2" filters, and is perfectly complemented by the 2" model of the EFW2. It's also fully compatible with Atik Air, making it easy to add wifi and ethernet connectivity to your set up.
The CCD is housed in a sealed, argon-purged chamber to create a dry, condensation free environment. Atik has also introduced a dual-stage Peltier and powerful new heatsink for optimum cooling performance. At -45°C typical and a huge -50°C maximum, it's Atik's best delta yet. All this means you can take stunning low noise images, even when the temperature's high outside.
Atik's high-quality, custom electronics power the sensor to give a read noise of just 9e-. There's also a new blade shutter which provides consistent and reliable performance over the camera's lifespan.
All this is housed inside a brand new case design that gives you optimum performance with minimum fuss, making the Atik 16200 the perfect camera for astrophotographers who want large format images, without the large format price tag.
A note on CCD Grades
The Atik 16200 comes with a class II sensor fitted as standard. We feel that the premium prices placed on class 1 sensors just aren't justifiable when using the camera for astrophotography. If you do require a camera with a class 1 sensor, please get in touch with us.
What's in the box?
Camera body with 2" adapter
3-metre USB cable
1.8-metre battery power connector (car lighter plug)
CD-ROM with drivers, software and user's manual (PDF)
Quickstart guide (paper)
Atik's highly acclaimed Artemis Capture software is included for camera control and data acquisition, along with a full ASCOM driver and plug-ins to allow use with Astroart and Maxim DL.
A universal (110-230V) power adapter is optional.
Specifications
Sensor Type: CCD - KAF-16200
Horizontal Resolution: 4499 pixels
Vertical Resolution: 3599 pixels
Pixel Size: 6 µm x 6 µm
ADC: 16 bit
Readout Noise: 9e- typical value
Gain Factor: 0.6e-/ ADU
Full Well: ~40,000e-
Dark Current: >0.25 electrons/second at 0°C
Interface: USB 2.0 High Speed
Power: 12v DC 2.5A
Maximum Exposure Length: Unlimited
Minimum Exposure Length: 200 ms
Cooling: Thermoelectric set point with max ?T=>-50°C
Weight: approx. 1.3 kg
Backfocus: 19.5mm ±0.5