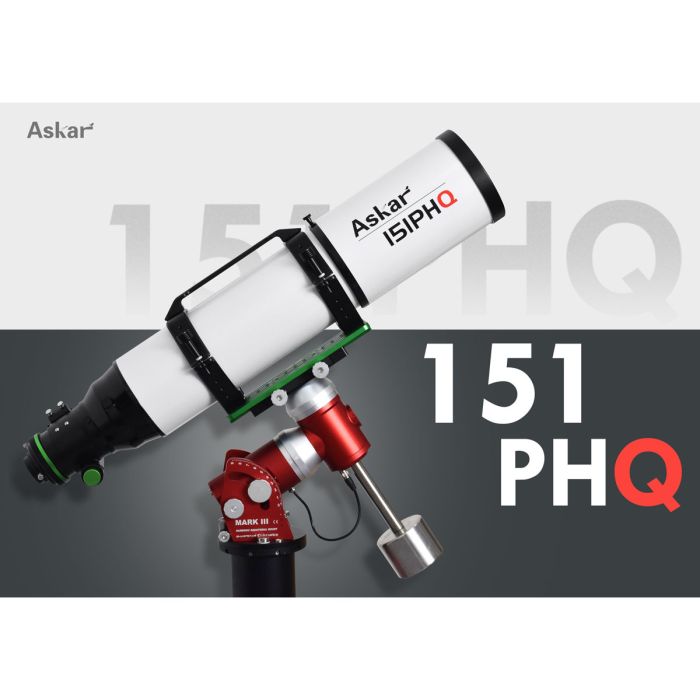 Askar 151PHQ 151mm f/7 Quadruplet Flat-Field Refractor
151PHQ is a long-focal-ratio, flatfield astrograph newly launched after 130PHQ and also the biggest refractor of Sharpstar products till now. Instead of buying extra flatteners, calculating the backfocus of the flattener, or making a tedious connection to match the distance, astrophotographers can simply equip it with any possible imaging devices, make the target stay at the focus, and then the whole optical system is perfect for imaging.
151PHQ has a focal ratio of f/7 and a focal length of 1057mm. The aperture is 151mm, which is the largest of Askar refractors so far. The quadruplet lens with two ED glasses offers excellent control of chromatic and other aberrations. With its self-flattening design, 151PHQ offers strong advantages in the astronomical shooting. It supports a medium frame 60mm image circle, has a fine spot diagram with tiny distortion of the peripheral stars, and its central RMS radius is less than 2 microns.
151PHQ comes with a telescopic lens hood, a high-quality CNC machined and painted tube, and attractive decorative parts. The 3.4" R&P focuser comes with M68/M54/M48 adapters, 360°rotator and a finder base. When used with the 3" 0.7 x flat field reducer, the telescope can reach a focal ratio of f/4.9 and a focal length of 740mm, effectively reducing exposure time. The multifunctional handle comes with a central slot for attaching an M6 screw with an M6 screw hole. A standard 300mm Losmandy dovetail plate, together with a sturdy double tube ring, is perfectly suited for viewing and shooting.
Askar 151PHQ Complete Specifications
Aperture size: 151mm
Focal length: 1057mm
Focal ratio: f/7
Objective lens: Quadruplet air-spaced APO (including two ED glass)
Image circle: 60mm
Maximum accessory connection (with the focuser fully retreated):

Imaging mode: 78mm (from the base of M48x0.75 male thread)
Observing mode: 119mm (from the end of1.25" eyepiece holder)

Total length:

Observing mode:

930.3mm (with the dew shield contracted)
1117.8mm (with the dew shield fully extended)

Imaging mode:

976.8mm (with the dew shield contracted)
1164.3mm (with the dew shield fully extended)

OTA Weight: 24 lbs (11 kg)
Total Weight (including tube ring & dovetail plate): 28 lbs (13 kg)
Rear-end thread type:

M86x1-M68x1
M68x1-M54x0.75
M54x0.75-M54x0.75
M54x0.75-M48x0.75 (built-in M48X0.75 filter drawer)

Four-piece photographic end adapter: M48X0.75
Includes:
151PHQ OTA
Pair of tube rings
Handle
Askar Losmandy 300mm dovetail plate
Set of 4-piece photographic adapters
Aluminum case
Manual