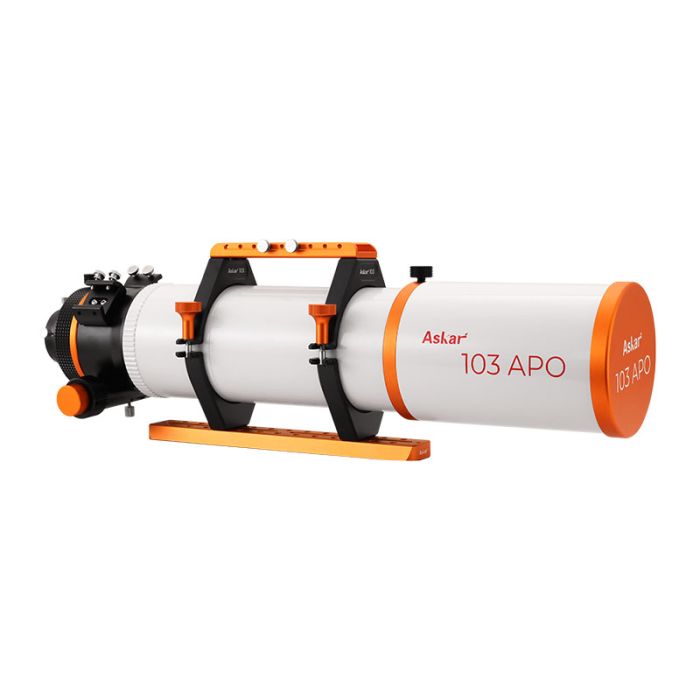 Askar 103APO Triplet Air-Spaced Refractor OTA
Askar 103APO: An Ultra-Versatile Refractor for Imaging & Visual
The Askar 103APO is a versatile triplet refracting telescope that's attractively priced for astrophotographers & visual observers of all skill levels who want one scope that can do it all. The Askar 103APO can be used in four possible configurations:
Using the Askar 103APO for Astrophotography
Each of the three flatteners and reducer/flatteners are sold separately, which allows astrophotographers to choose which focal lengths they'd like to image at. Please note that for imaging, you will need at least one of these three optical correctors to attach a camera and imaging train. 
Using the 1x field flattener at 700mm focal length, astrophotographers can capture many deep sky objects in high resolution. Looking to capture a wider field? You can reduce the Askar 103APO down to 560mm with the 0.8x reducer/flattener or even 420mm at a speedy f/4, a focal ratio not found on many refractors. This fast focal ratio allows you to gather a lot of light quickly, making it an excellent choice for bringing out details in your target.
Askar 103APO Optical Design
The Askar 103APO is a triplet apochromatic refractor, meaning it uses three lenses to fully correct for chromatic aberration, or color fringing around bright objects like stars. To further ensure chromatic aberration is not an issue, one of these three lenses is an ED (extra-low dispersion) element, which helps reduce any possibility of stray light that could cause chromatic aberration. The triplet lens arrangement is air spaced, which means it will be easier to maintain vs. an oil-spaced telescope as there is no possibility for oil to leak.


Askar 103APO Features for Astrophotography
The Askar 103APO features amenities that prove this isn't Askar's first — or even tenth — time around the block when it comes to making telescopes with astrophotographers in mind. Here are a few of these amenities that astrophotographers can especially appreciate:
An oversized 3.3-inch focuser that provides a large clear aperture and can support heavy image trains
Two finder shoes on either side of the focuser allows for attaching multiple accessories at once, such as a finder scope, guide scope, ZWO ASIAir or other accessory
A slotted handle makes the telescope easy to carry and can allow the attachment of even more accessories with finder-style bases
A retractable dew shield compresses & locks for easy storage and transport, plus has matted felt inside to ensure stray light doesn't affect your exposures


Askar 103APO 3.3-inch Focuser
The 103APO features a premium 3.3-inch, dual-speed rack and pinion focuser that is compatible with most motorized focusers on the market. If you're familiar with telescopes, you'll know that a 3.3-inch focuser isn't typically found on telescopes of this size. This beefy of a focuser has major benefits for astrophotographers, such as a large clear aperture to reduce the possibility of vignetting, the ability to support heavy image trains, and allows for a lengthy 10cm of focus travel to reach focus with just about any image train.
To top it all off, the camera side of the focuser features a 360º high-precision rotator with precise scales. This allows imagers to replicate the exact rotation of images taken in previous nights or sessions, and an enlarged locking screw ensures the image train is secure even under heavy loads. Last but not least, the focuser has anti-reflective matting paint inside to further prevent any stray light from making its way into your images.
A Trick Up Its Sleeve for a Faster Focal Ratio
The included 2" & 1.25" adapters allow for standard attachment of your favorite eyepieces at the telescope's native focal length of 700mm and focal ratio of f/6.8. But the Askar 103APO has a trick up its sleeve — you can unscrew and remove a section of the OTA between the focuser and the main tube (see above video for details). This extra back focus created by this allows for attaching a binoviewer. Dedicated visual observers will know that being able to use a binoviewer on a refractor is a rare treat, as there often isn't enough back focus. You will also need to remove this section in order to be able to properly use the 0.6x reducer/flattener at f/4.
Askar 103APO Size & Weight
With all of these bells & whistles like an oversized focuser and extra finder shoes, one might think that the Askar 103APO might be a heavy telescope. In reality, the scope weighs a mere 12 lbs (5.5 kg) in its default visual configuration with tube rings & dovetail plate. Even when paired with its heaviest optical corrector, the 0.6x reducer/flattener, the entire telescope still weighs an impressively-lightweight 14.3 lbs (6.5 kg). This is light enough to be easily carried by even entry-level telescope mounts that can only support a 30 lb (13.6 kg) payload capacity. With the dew shield fully extended, the telescope is 711mm long, or 600mm when the dew shield is retracted.
Askar 103APO Specifications
Aperture size: 103mm
Focal Length: 700.4mm (reducable down to 560mm or 420mm with additional accessories)
Focal Ratio: f/6.8 (reducable down to f/5.4 or f/4 for imaging with additional accessories)
Optical design: Triplet air-spaced APO (including one ED glass)
Total tube length:

600mm(when dew shield is contracted)
711mm(when dew shield is extended)

OTA weight: 10.5 lbs (4.75 kg)
Gross weight (including tube ring and dovetail plate): 12 lbs (5.5 kg)
Rear-end thread type: 2"/1.25" visual adapters included (imaging threads only possible with additional accessories)
Mount attachment: 290mm Vixen-style dovetail included
WHAT'S IN THE BOX
Askar 103APO OTA
Pair of tube rings
Handle
Askar 290mm Vixen dovetail plate
Manual
Soft case