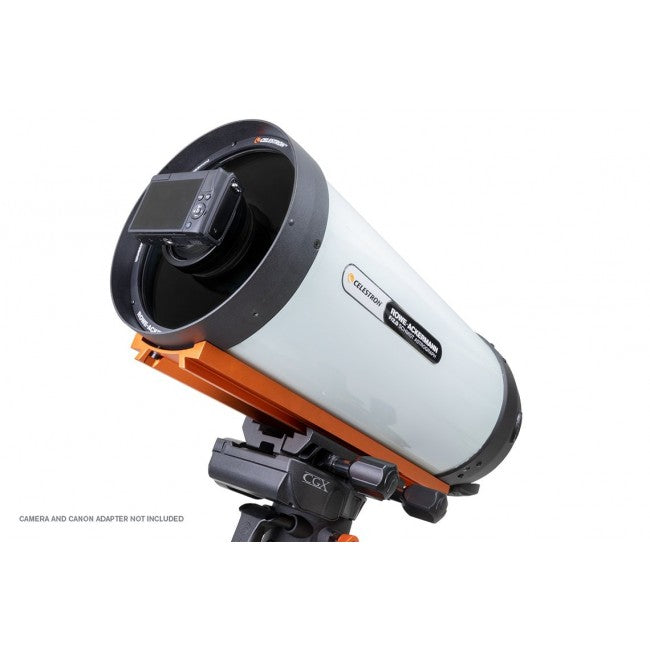 8" ROWE-ACKERMANN SCHMIDT ASTROGRAPH (RASA 8)
The 8" RASA is an imaging telescope that delivers a flat field without optical aberrations for razor sharp stars across a wide field of view. It can capture stunning deep-sky astronomical images without the challenges typically presented by longer focal length instruments at a fraction of the cost of those systems.
The latest addition to the RASA family, this 8" version is a much more portable and affordable version of the heralded RASA 11, which was introduced to much acclaim in 2014. With the 8" RASA joining the lineup, a wider range of astroimagers can enjoy the benefits of the RASA design. It has many of the same thoughtfully designed features as its "big brother" RASA 11, including the integrated air-cooling system, internal filter mount, and sturdy CGE dovetail mounting bar.
Purely designed for imaging, the 8" RASA cannot be used visually. The prime focus focal plane is located at the front of the optical system, so it cannot accommodate a traditional eyepiece.
Ultra-Stable Focus System
With the launch of the 8" RASA, Celestron is unveiling a new focuser design that mitigates lateral movement of the primary mirror when focusing, slewing, or tracking with the astrograph. Focusing is easier, more accurate, and more stable than ever. The key to the Ultra-Stable Focus System is two sets of precision bearings that are precisely aligned and tested during assembly to ensure optimal results.
| Optical Tube Info: | |
| --- | --- |
| Optical Design | Rowe-Ackermann Schmidt Astrograph |
| Aperture | 203mm (8") |
| Focal Length | 400mm (15.74") |
| Focal Ratio | f/2.0 |
| Central obstruction diameter | 93mm (3.66") (46% of aperture diameter) |
| Light Gathering Power (Compared to human eye) | 843x |
| Resolution (Rayleigh) | 0.68 arc seconds |
| Resolution (Dawes) | 0.57 arc seconds |
| Image Circle | 22mm (.86") Ø, 3.15° |
| Useable field | 32mm (1.26") Ø, 4.6°, only minimal performance loss at edge of FOV |
| Wavelength range | 390 - 800 nm |
| Spot size | < 4.6 μm RMS across image circle |
| Optical Coatings | StarBright XLT |
| Off-axis Illumination | 93% at 11mm (.43") off-axis |
| Optical Window | 46mm (1.81") Ø |
| Back focus with included camera adapter | 25mm (.98") |
| Back focus from top of threaded collar | 29mm (1.14") |
| Optical Tube | Aluminum |
| Optical Tube Length | 628mm (24.7") length | 235mm (9.3") diameter |
| Focuser | Ultra-Stable Focusing System |
| Finderscope | Not included |
| Optical Tube Weight | 17 lbs (7.7 kg) |
| Other Features | Air-cooling system, integrated filter mount |
| Included items | M42 camera adapter, C-thread camera adapter, fan battery pack |
| Dovetail | CGE Dovetail Bar |