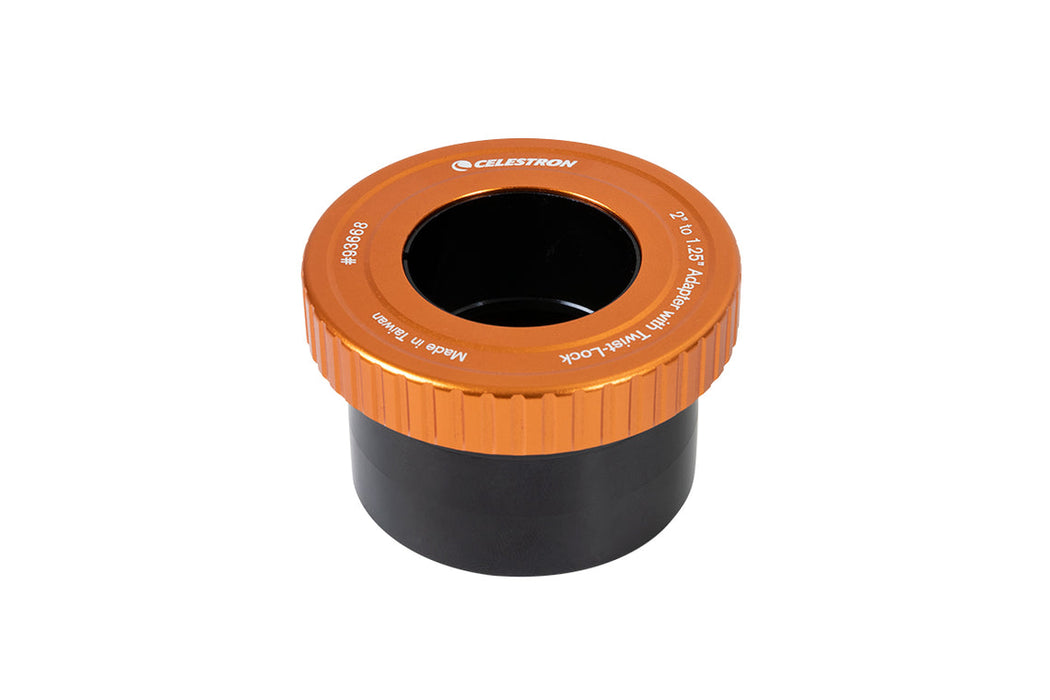 2" to 1.25" Adapter with Twist-Lock
The Celestron 2" to 1.25" Adapter with Twist-Lock was designed for visual observers who use both 2" and 1.25" eyepieces regularly and need a quick adapter to use with the 2" barrel. 
The twist-lock eyepiece holder secures eyepieces while keeping them centered in the adapter, providing best opto-mechanical alignment between the telescope and eyepiece. Unlike traditional thumb screws, the twist-lock cannot scratch or engrave the barrel of your eyepieces. The adapter has an integrated 1.25" barrel stop that prevents 1.25" accessories with long barrels from damaging the mirror. 
All the adapter's mechanical parts are made of machined black anodized aluminum, except the twist-lock rings, which are orange anodized for visibility.
Save Time and Money when using Eyepiece Filters
If you want to look at an object under different eyepiece magnification but keep the same eyepiece filter, thread your 2" eyepiece filters to the barrel of the adapter. Since this adapter accepts 2" filters, you can also save money by buying fewer 1.25" eyepiece filters.
Enables 1.25" eyepiece and accessories to fit in a 2" eyepiece holder
Twist-lock keeps a 1.25" eyepiece centered in the adapter to provide better optical alignment
Capable of accepting 2" filters threaded onto the barrel
High quality machined aluminum construction throughout