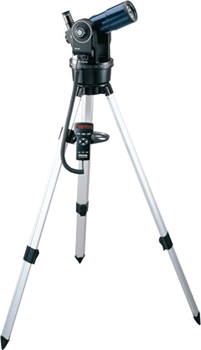 Aligning a Meade ETX 60, ETX 70, and ETX 80
Note: To scroll through a list on the ETX hand controller, use the Up and Down buttons on the bottom of the hand controller rather than the arrow keys in the middle of the controller.
First Steps
Be sure to lock the clutches in each axis (lever on the left-right axis, knob on the up-down axis) before beginning the alignment.
The ETX 60/70/80 telescopes does not include a finderscope of any kind. This is really a necessary item. A red-dot finder such as a StarPointer is highly recommended.
Aligning the Telescope
1. Press SPEED to skip Sun warning
2. Press ENTER to begin alignment procedure
3. Enter date by using the arrow keys, press ENTER when finished
4. Enter time by using the arrow keys, press ENTER when finished
5. Select Yes or No for Daylight Saving Time, press ENTER
6. Press ENTER for Align Easy
7. Use the arrow keys to aim the telescope North and Level (horizontal)
8. Press ENTER
Telescope will search for first alignment star, then point to that star in the sky
9. Press SPEED until set at 0.5°/sec
10. Use Arrow keys to center star in finderscope
11. Press SPEED until set at 32x
12. Use Arrow keys to center star in eyepiece
13. Press ENTER
Telescope will search for second alignment star, then point to that star in the sky
14. Press SPEED until set at 0.5°/sec
15. Use Arrow keys to center star in finderscope
16. Press SPEED until set at 32x
17. Use Arrow keys to center star in eyepiece
18. Press ENTER
Telescope is now aligned
Selecting Objects from the Catalog
1. Press ENTER to select OBJECTS
2. Use the Up and Down buttons to select Catalog (Solar System, Messier, etc.), press ENTER
3. Select object from the catalog by using the arrow keys to select from a list or enter a number using the keypad
4. Press ENTER to select object
5. Press GOTO to send telescope to that object
6. Press MODE to return to previous menus