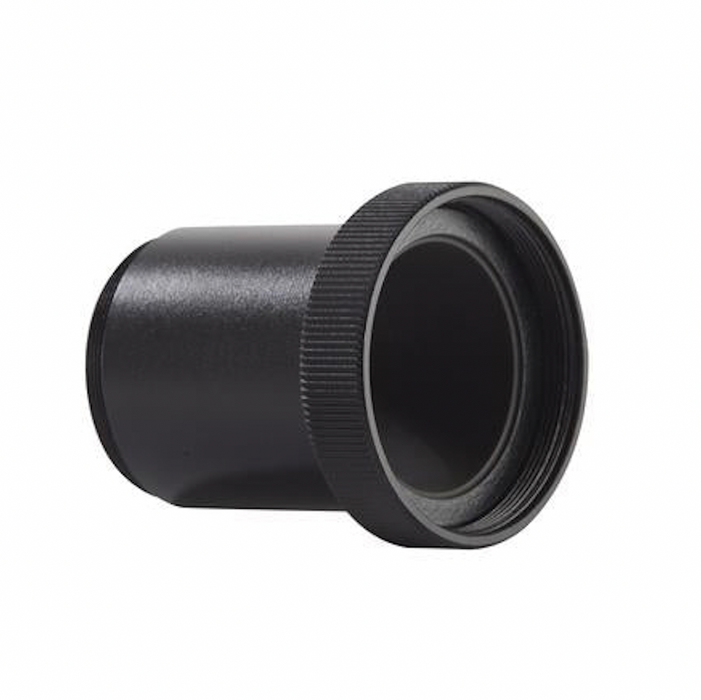 T-Adapter for Schmidt-Cassegrain Telescopes
T-Adapter attaches an SLR or DSLR camera to a Schmidt-Cassegrain telescope for prime focus photography
Threads on to the rear cell of Schmidt-Cassegrain telescopes
T-threads accept camera brand specific T-Ring (sold separately)
This sturdy metal T-Adapter is the accessory of choice if you'd like to attach an SLR or DSLR camera to the rear cell threads of a Schmidt-Cassegrain telescope for prime focus photography.
To get started, you'll need the appropriate T-Ring for your camera body. Remove the lens from your camera and attach the T-ring in its place. Since the T-ring is camera-brand specific, it will snap right on just like a lens. Next, remove the diagonal and visual back from the rear cell of your telescope. Screw the Celestron T-Adapter onto the rear cell threads until secure. Now, thread the T-ring & camera onto the T-Adapter. That's all there is to it. The camera is now using your telescope as a giant telephoto lens. The magnification will depend on the telescope's focal length. For instance, a 300 mm camera lens is considered to be pretty powerful, right? Well, if you are using an 8" SCT at prime focus, you've got yourself a 2000 mm lens with a lot of light-gathering capability!
Prime focus photography is popular for short exposure images of terrestrial objects as well as celestial objects like the Moon.
Astronomy cameras can also be accommodating using T-thread spacers to make up the difference in backfocus between a DSLR and the astronomy camera. Contact Starizona for help choosing the right spacers for your setup.