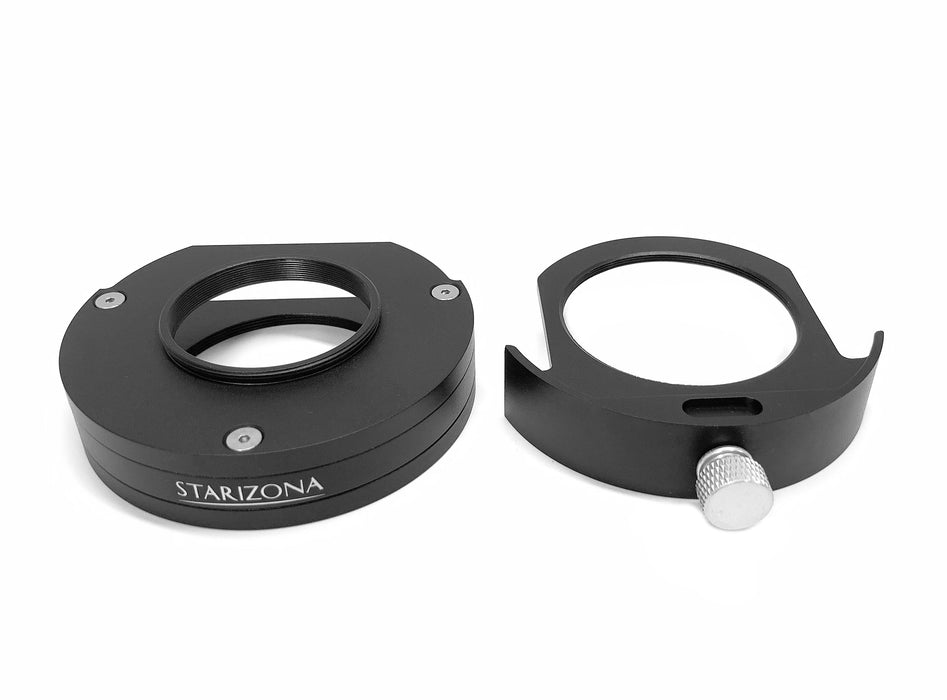 Starizona Modular Filter Slider
* HYPERSTAR USERS:
If you're ordering a Modular Filter Slider for your HyperStar you will also need to purchase a Filter Slider Adapter for your camera of choice to reach the correct backfocus and attach the Modular Filter Slider to your HyperStar.
The Modular Filter Slider improves on our original Filter Slider design by allowing customization through interlocking modular top and bottom plates, making it more adaptable to various optical systems, and by adding better protection against light leaks.
New Modular Filter Slider Features
Easily interchangeable top and bottom plates for maximum flexibility.  Plate options include male M42, male M48, male M54, female M42, and female M48.
New and improved filter drawers and interlocking threaded plates improve light leak prevention
All threaded plates use common, standardized threads.
All Filter Drawers now include removable knobs.
Specifications:
• Modular Filter Slider height: 17.5mm
• RASA8 Filter Slider height: 19.5mm
• Modular Filter Slider diameter: 78.5mm or 3.09"
• M42 Male/Female threads: 42mm x 0.75
• M48 Male/Female Threads: 48mm x 0.75
• M54 Male threads: 54mm x 0.75
What's included:
The Modular Filter Slider Body
1x Top Threaded Plate
1x Bottom Threaded Plate
1x Filter Drawer w/ Knob
6x Screws to attach the Top and Bottom Plates
1x Allen wrench
Important notes about The Original Starizona Filter Sliders:
Starizona's Original Filter Slider Complete has been discontinued and will not be sold anymore. Starizona will still support the previous Starizona Filter Slider by making

 

drawers

 

and

 

filter slider replacement tops

 

available for the foreseeable future. Please contact Starizona if you need help adapting your Original Filter Slider Complete.
Original Filter Slider Filter Holders and Top Plates are NOT compatible with the New Modular Filter Slider. Likewise, the new Modular Filter Drawers, Top Plates, and Bottom Plates do not work with the Original Starizona Filter Slider.