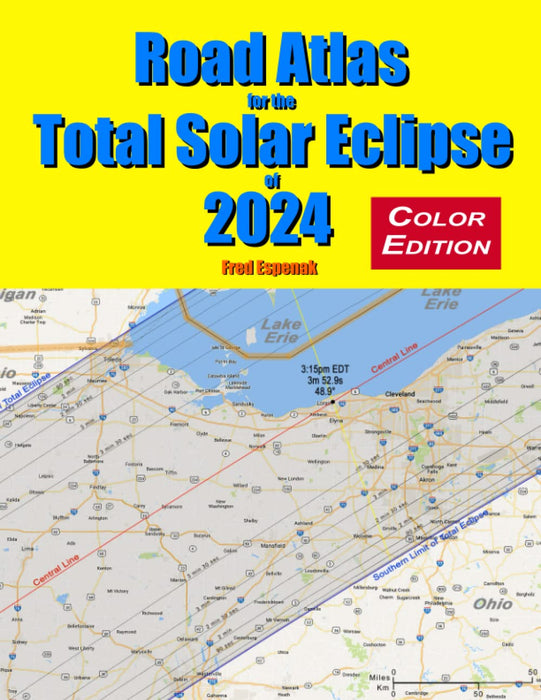 Road Atlas for the Total Solar Eclipse of 2024 Color Edition book
On Monday, April 8, 2024, a total eclipse of the Sun will be visible from parts of the United States and Canada. Although a partial eclipse will be seen from all of North America, the total phase in which the Moon completely covers the Sun (known as totality) will only be seen from within the ~120-mile-wide path of the Moon's umbral shadow as it sweeps cross Mexico, the United States (Texas, Oklahoma, Arkansas, Missouri, Tennessee, Kentucky, Illinois, Indiana, Ohio, Michigan, Pennsylvania, New York, Vermont, New Hampshire, and Maine), and Canada (Ontario, Quebec, New Brunswick, Prince Edward Island, Nova Scotia and Newfoundland).
The Road Atlas for the Total Solar Eclipse of 2024 contains a comprehensive series of 26 maps of the path of totality across Mexico, the USA and Canada. The large scale (1 inch = 22 miles) shows both major and minor roads, towns and cities, rivers, lakes, parks, national forests, wilderness areas and mountain ranges.
The path of totality on each map is depicted as a lightly shaded region with the northern and southern limits clearly identified. The total eclipse can only be seen inside this path. The closer one gets to the central line of the path, the longer the total eclipse lasts. Gray lines inside the path mark the duration of the total eclipse in 30 second steps. This makes it easy to estimate the duration of totality from any location in the eclipse path.
Armed with this atlas and the latest weather forecasts, the road warrior is ready to chase totality no matter where it takes him/her along the entire path. This mobile strategy offers the highest probability of witnessing the spectacular 2024 total eclipse in clear skies.