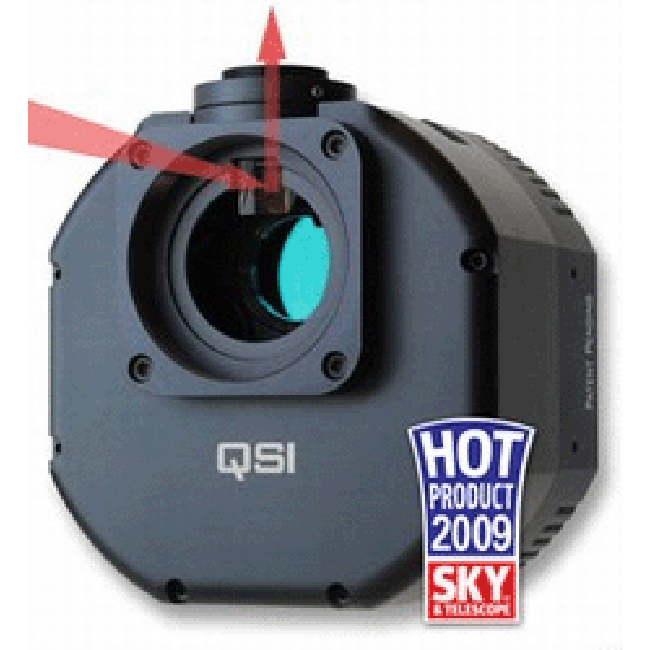 QSI 583wsg 8.3mp Monochrome CCD Camera with Guider Port
The QSI 583 camera employs an 8.3 megapixel Kodak Enhanced Response full-frame CCD image sensor with microlens technology. The high quantum efficiency, wide dynamic range and low noise performance make the 532 ideally suited to a broad range of demanding astronomical, scientific and industrial imaging applications.
The KAF-8300 sensor has a photoactive array of 3326W x 2504H pixels. It has excellent quantum efficiency between 350nm and 1000nm with significant enhancement at the blue end of the spectrum. Low dark current and high pixel charge capacity result in a dynamic range exceeding 70db. The sensor employs a true two-phase charge transfer technology with a transparent gate that significantly increases optical response compared to traditional front illuminated full frame sensors. Micro lenses cover the surface of the CCD and focus the light through the transparent gate to further increase optical response.
Internal Color Filter Wheel
The Model 583ws adds an internal five position filter wheel to the camera in a 'full-size' camera body. The filter wheel accepts any standard 1.25" filter and can be purchased with various filter configurations. The filter wheel can easily be removed and replaced to change or clean the glass filters. Additional filter wheels can be purchased allowing quick interchange of different filter set configurations.
The close positioning of the internal filter wheel allows unvignetted images with scopes as fast as f/4 using standard 1.25" filters, or as fast as f/2.8 utilizing the new unmounted 31mm filters. Save hundreds of dollars over cameras that require external filter wheels with larger diameter filters.
Integrated Guider Port
The Model 583wsg camera has the internal mechanical shutter and color filter wheel like the 583ws, plus it adds an Integrated Guider Port. This allows guiding using the light from your main telescope while picking off the light from the guide star in front of the filters
Specifications
CCD Manufacturer & Model: Kodak KAF-8300
CCD Architecture: Full Frame
Microlens: Yes
Anti-blooming: Yes (1000x)
Imager Size (WxH): 17.96mm x 13.52mm
Pixel Array (WxH): 3348x2574 total pixels, 3326x2504 active (visible)
Pixel Size: 5.4µm x 5.4µm