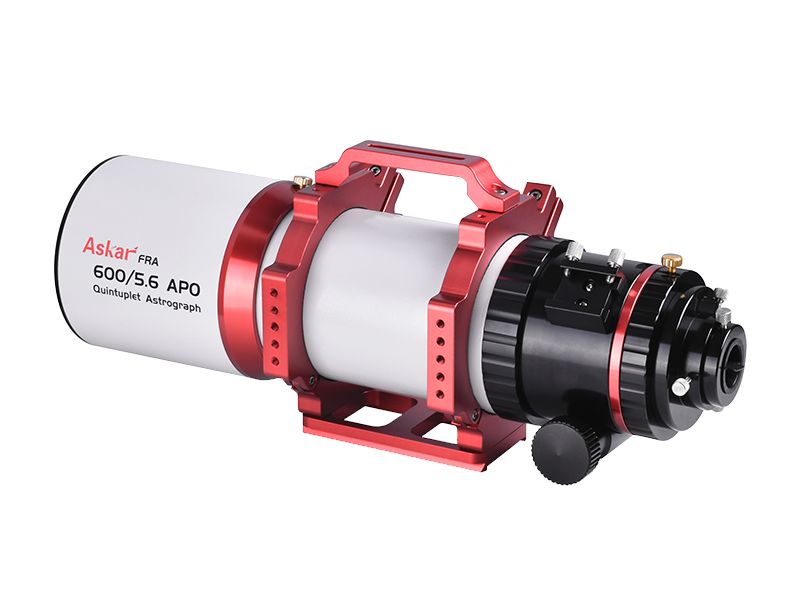 This FRA600 Quintuplet Refractor is built on a Petzval design, comprising a front triplet and rear doublet lenses, two pieces of which are ED glass. This combination provides a high level of apochromatic performance for astroimaging.

With wonderful optical design, the FRA600 astrograph provides a 66mm image circle to ensure excellent star shape across the entire field whilst controlling chromatic aberration, minimizing the distortion.

The two lenses in the rear group have a diameter of 80mm, effectively counterbalancing the effect of decreasing field illumination. With the precise manufacturing, they obtain optimal sharpness nearly to the theoretical level, bringing you beautiful clear detailed images with round-shape stars.

The FRA600 comes with a large 4.2" rack-and-gear-based focuser which includes a standard 1:10 focal adjustment knob, the focuser greatly enhances the payload to a pro level, offering smooth operation without slipping when heavy imaging equipment and accessories are attached.

The focuser allows multiple connections. Besides, Askar also offers a standard conical extender with threads of M54×0.75 and M48×0.85 to connect various astrophotographic equipment.

Mechanically, the FRA600 has a tube diameter of 125mm and a retractable dew-shield. With the dew-shield retracted, the total length is only 493mm, making it a great portable 4" astrograph.

A set of multifunctional red anodized tube rings includes mounting points on three sides, making itself easy for attachment of accessories such as guider scope for backyard viewing.

In addition to supporting wide field astrophotography, the FRA600 is also perfect for high quality observation, providing exquisite chromatic aberration correction and creating images with impressive contrast comparable to visual experience.

The excellent performance would already justify its price if the FRA600 was a mere triplet APO refractor. But our FRA600 is a 4.3" Super APO Quintuplet Astrograph, its ingenuity has already exceeded its counterparts falling in the same price range.


FRA600 Parameters

Aperture

108mm

Focal length

600mm

Focal ratio

F5.6

Objective type

Quintuplet flat-field APO (including two ED elements)

Image circle

66mm

Back focus

160mm (from the end of rotator M90x1 thread)

Overall length

493mm

Total Weight (Including tube ring&dovetail plate)

6.5kg

Standard packing weight

7.8kg(not include Aluminum case)

Back-end adapter

M108x1 male thread (no rotator), M90x1 male thread, 2" adapter/ 1.25" adapter

Conical adapter

M90×1-M68×1-M54x0.75-M48×0.75

Accessories

A pair of tube rings, a handle, a dovetail plate, sectional conical tube adapter (with M54X0.75 and M48x0.75 male thread), an
inspection list, a manual