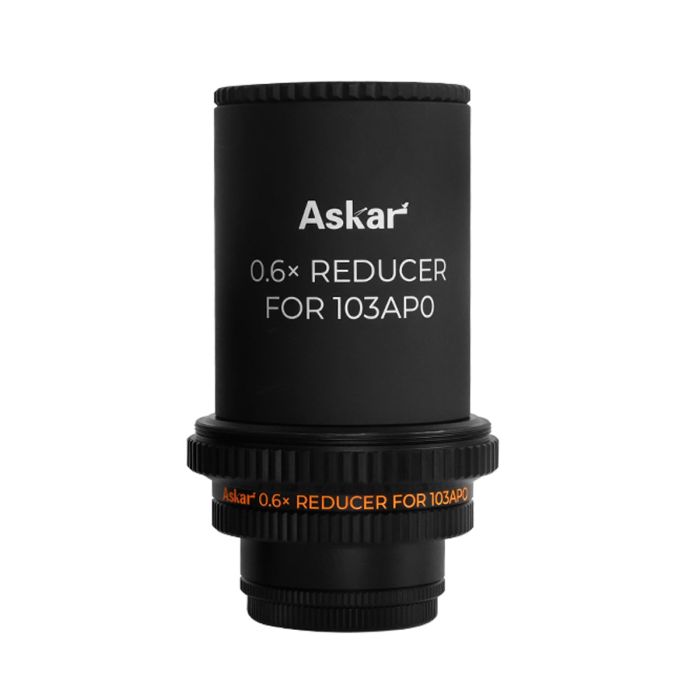 Askar 0.6x Full Frame Reducer / Flattener for 103APO Telescope
The Askar 103 APO comes with three optional premium accessories, a 1.0x flattener, a 0.8x reducer, and a 0.6x reducer. Introduced here is the 0.6x reducer, which is optimized for the Askar 103APO, and can provide more possibilities for telescope use.
The 0.6x reducer can bring the Askar 103APO's focal ratio down to F4 while also providing field flattening. Askar 103APO adopts a detachable tube design, where the rear part of the tube can be removed when using the 0.6x reducer, allowing the telescope to have the necessary length to achieve an F4 focal ratio. (Please see below image for installation instructions).
The 0.6x reducer adopts a quadruplet design that also supports a 44mm full-frame image circle. The overall weight is 0.98kg. The back focus from the M48 thread is a standard 55mm. The front thread is M84*1. At the camera end, we have equipped three sizes of adapter, M68*1, M54*0.75, and M48*0.75 for easy subsequent connection and use. At the same time, the built-in M48*0.75 2-inch filter thread can be used to install filters directly. The overall CNC machined, both end threaded metal caps prevent ash when not in use.
Specifications:
(After attaching) 103APO Focal length: 420.24mm
(After attaching) 103APO Focal ratio: f/4.08
Lens Number: Quadruplet design
Back Focus: 55mm (from the base of M48 male thread)
Weight: 0.98kg
Rear-end thread type:

M68×1
M68×1-M54×0.75
M54×0.75-M48×0.75 (M48×0.75 filter thread inside)