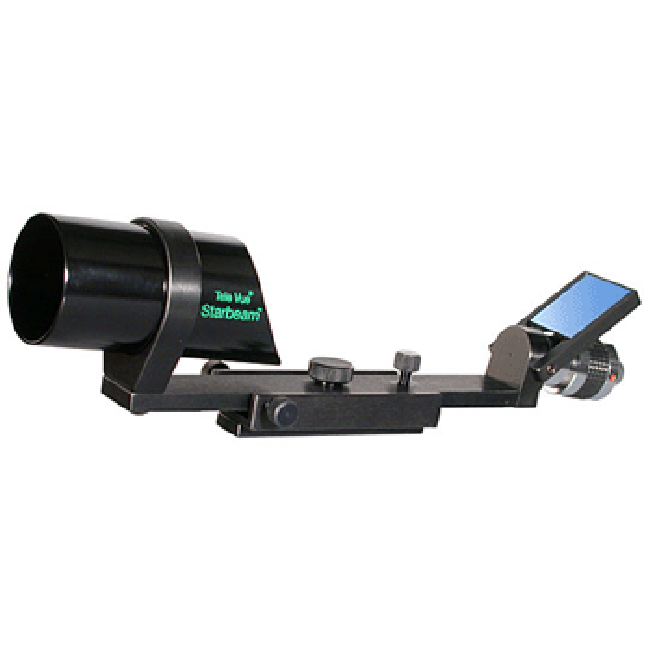 Starbeam w/Flip Mirror - TeleVue
Starbeam's unique flip mirror feature provides comfort and flexibility for viewing at any angle from straight through to 90°. Viewed straight through, you see the natural sky with a 10 arc-minute (1/3 Moon diameter) "red-star" showing your scope's position. When your scope is pointed high, flip the mirror into position for more comfortable viewing. Viewed this way, the sky orientation matches a refractor or SCT's image. The size, color and adjustable brightness of the "red-star" makes it easy to see against any twilight to dark sky background.
With its 39mm aperture, the projected image is easily seen any distance behind Starbeam, whether 2 inches or 2 feet! The finely made glass lens acts as a beamsplitter to combine the natural sky background with the superimposed red pointing "star." The first lens surface acts as a collimating mirror so the "red-star" stays stationary against the sky background regardless of how it is viewed. It's 6-arc-minute accuracy over any eye position allows you to pin-point objects -- even with high-power eyepieces in the telescope. A compensating curve is designed into the second lens surface to provide the normal sky background view and is multi-coated to eliminate double images.
Elegant in design and form, Starbeam is custom machined completely from aluminum and then black anodized, even down to the "push-pull" thumb screws. No tools are required to align Starbeam with your telescope. Two base channels are available, one for Tele Vue telescopes (except Ranger) and one for scopes of 4" or larger tube diameter. Mounting hardware included.