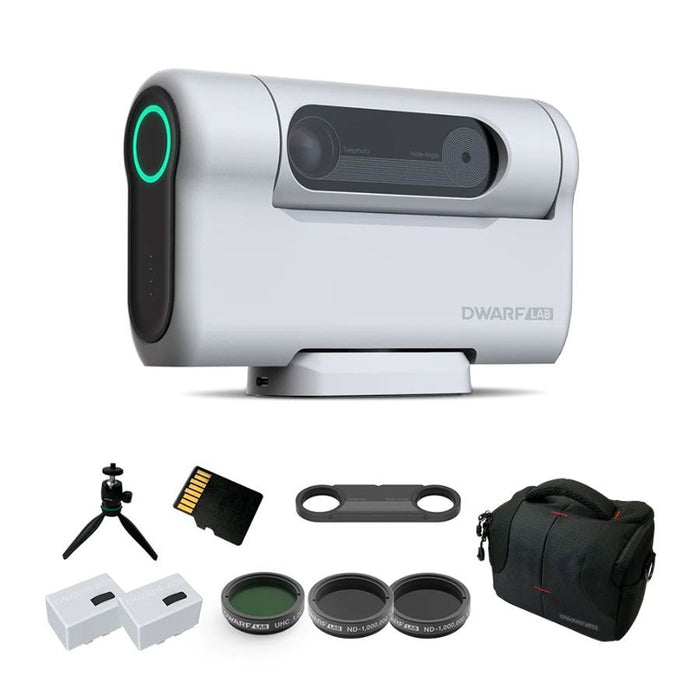 DwarfLab DWARF II Smart Telescope Deluxe Edition
If you are looking for a versatile, Smart Telescope experience that will meet your terrestrial and celestial goals with an easy-to-use process with AI control, then look no further. This Deluxe edition of the Smart Telescope comes with additional accessories that include a UHC filter, two ND Solar Filters, an extra Rechargeable Battery, and a filter adapter. The DWARF II from DwarfLabs is an extremely portable digital telescope that you can control from your smartphone or tablet! All you need is the DWARF II smart telescope and the DWARFLAB app, and you are ready to start your astronomy adventure!
The Dwarf II Smart Telescope is an excellent companion for amateur astronomers, bird watchers, wildlife photographers, and other types of photography enthusiasts. The setup and operation are incredibly intuitive and will be user-friendly to those just entering into the astrophotography field. In addition to being easy to use, the DWARF II is very portable, making it an excellent tool when traveling, whether you are going to a neighborhood star party or taking it on a weekend camping trip.
Though it is small, the Dwarf II smart telescope boasts an amazing array of high-quality features to ensure that you are getting the most out of your smart telescope experience. Just some of these features include portability, live stacking, and AI-powered object tracking. The Deluxe package also comes with additional accessories, such as three filters, a filter adapter, and an extra rechargeable battery. Learn more about these accessories below.
Versatility
The DWARF II Smart Telescope is portable and capable of a variety of different photography-based applications. Using a dual camera design and AI power, you can use the DWARF II to take photos of deep-sky objects such as galaxies and nebulae. The Dwarf II doesn't stop there, however, it can also record videos of birds and other wildlife during the day. So, whether you are looking to photograph day or night, land or sky, this portable smart telescope from DwarfLabs has you covered.
Easy Control
The DWARD II telescope is an incredibly intuitive system. All you need to do is connect your smartphone/tablet to the DWARF II smart telescope via your WiFi network. From there. you can wirelessly control DWARF II telescope unit through DWARFLAB App. This app is available for both Android & iOS. Then you are ready to take pictures/videos. DwarfLabs will provide API and developer documentation, so you are able to run your own programs on the DWARF II. Please Note: Please ensure that your phone/tablet supports Bluetooth 4.0 & WiFi 5GHz.
Unique Dual Camera System
DwarfLabs has designed the DWARF II with two cameras. These are a wide-angle camera and a telephoto camera. Regarding the field of view, the telephoto is 3° and the wide angle is 50°. Using the wide-angle camera, you are able to take pictures just as you would with a normal camera, and you can also preview the field of view. You are able to find your desired target in the wide-angle view. Then, the telephoto camera will be aimed at your target. The telephoto image will always be fixed near the center of the wide-angle image. The F-number of the two lenses is as follows: 4.2 (Tele), 2.4 (Wide). The equivalent focal length of the telephoto lens is 675 mm, and the wide angle is 48 mm. The working distance of the DWARF II is 4m~∞. Finally, the digital resolution of the tele photo lens is 8 Megapixel and the wide-angle lens has a digital resolution of 2 Megapixel.
Auto Star Tracking & Stacking
Get ready for seamless automation! The DWARF II smart telescope can automatically track stars as they slowly move due to Earth's rotation. The body of the DWARF II can rotate around the altitude and azimuth along the movement of stars and uses a field-rotation-correction algorithm to avoid field rotation. From there, you are able to use the DWARF II scope to track deep-sky objects with a long exposure time. With automatic registration after multiple exposures, the DWARF II will stack the images into a bright and clear image.
AI Powered Object Recognition and Tracking
The DWARF II smart scope uses a neural network processing unit (NPU) to automatically recognize and track the movement of a chosen subject. When the movement slows down, you only need to click once to zoom in for a closer look. The DwarfLab panoramic and telephoto lenses are always in sync, and you can switch between them with one click in the app.
Ultra-Portable Compact Design
The body of the DWARF II smart telescope weighs in at only 1.2 kg (2.6 lbs), so you can take it anywhere! Included with the DWARF II is a custom carry bag as well as a small tripod to ensure you are ready to use your smart telescope wherever you may go. The bag is padded for protection during travel. Get ready to have an all-in-one unit that you can take on-the-go!
About the Two ND Filters
In addition to the standard DWARF II smart telescope accessories, the Deluxe package included two neutral density (ND) solar filters. An ND ND filter reduces exposure to light to improve the photo quality of the Sun or other bright sky objects like the Moon. Using this filter with your smart telescope will allow the sun to appear in a natural orange color when shooting through your DWARF II. DwarfLab has included two ND filters. Using the included filter adapter, it's imperative that you use both ND filters when shooting the sun. If you do not use both ND filters, it may cause damage to your DWARF II sensor.
About the UHC Filter
Also included is a UHC DWARF II Smart Telescope filter. This filter is specially designed for the DWARF II telescope. This filter reduces the negative impact of artificial lights and airglow when photographing deep sky objects. In order to use this filter, install the filter on the included adapter, then use the magnet to hold the adapter to the camera's glass.
About the Filter Adapter
DwarfLabs has included a filter adapter in the Deluxe package. This accessory is imperative when it comes to correctly using your ND and UHC filters with the DWARF II. The filter adapter magnetizes to the surface of the lens protection glass. There are two 1.25" screw threads where the filters can attach. The adapter is clearly labeled to indicate which threaded hole is for the telephoto lens and which is for the wide-angle lens.
About the Additional Rechargeable Lithium Battery
To allow for extra power, DwarfLabs has included an extra rechargeable lithium battery. This 5600mAh lithium battery is only compatible with the DWARF II telescope. One full charge will provide you with three to four hours of working time for the DWARF II smart telescope.